Congratulations! We just placed our first facebook ad order, which we did in the previous lesson!
Since we're done with learning "How to place a Facebook ad properly", now we're all set to advance towards "Facebook page".
Do you wish your Facebook page had more likes and exposure and the posts attracted more engagement? Every page owner wants that.
That's what we're going to learn in this lesson. This lesson is all about Facebook pages – how to get more likes and reach to your facebook page – both with paid advertising and organic method for long term sustainability.
Hello and welcome back to the "Facebook Marketing ABC" course which is intended to teach you ins and outs of Facebook Marketing! We're about the start of the 4th chapter of the course
But before that, I recommend checking out the previous lessons of this course if you haven't done so. Because it's tough to understand a continuous process if you a skip step, or steps.
Previous lessons can be found here.
Part 3.4: Ad Content, Ad Placing & Placement Management
Alright, now let's get into attracting more engagement to our facebook page.
Getting More Likes to Your Facebook Page
If you have a good amount of likes on your facebook page from your targeted audience, that is an asset for you. That can help you get more result out of your page organically, without creating an ad.
We usually create ad having a specific goal in mind – like promoting an offer, showcasing a new collection, etc. To do so, we need to spend a good amount of money every day.
But if our page had a good amount of likes already, we would rather post about that offer or collection from our page as a regular post, and it could possibly give us a good return, engagement, and conversion without spending a buck.
That's why I believe having a facebook page with a good amount of likes is a long term asset that can give you a good return for free in the future.
Now, the question is, how to build this long term asset? How to get more page likes?
Well, not a very easy job.
You have two ways to do so. One is organic, means free promotion, which includes a lot of effort with a comparatively lesser return.
Other is promoting your Facebook page with $$.
In this article, I'm going to mainly focus on how to promote your facebook page with money that brings more result with minimal or zero effort, since this course of ours is mainly focused on Facebook marketing with bucks.
However, I'll still share some tips that worked for me on how to get more likes and engagements to your page organically, without spending a buck.
Let's start with "Promoting Page with Money" first.
So, as I was saying above, we create ads usually having one specific goal in mind, which usually is getting more conversion for a particular campaign.
But did you know we could create an ad that is solely focused on getting more likes to our facebook page?
Probably yes, lol! I told you that in earlier lessons.
However, what I didn't tell you is, they're far easier and less effort to create than regular ads. Basically, we'll create them in a compact version of the ad create a tool where most of the works are already done by Facebook.
I'll explain what I'm talking about.
So, you navigate to your facebook page when you're logged in as an admin or manager with advertisement privileges.
Going so, you'll find a button that says promote, like this –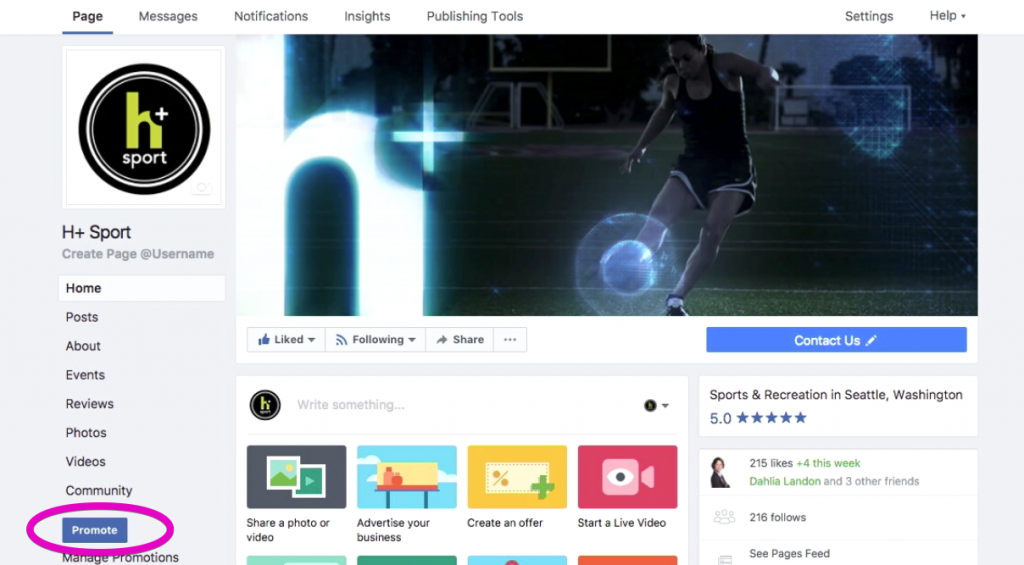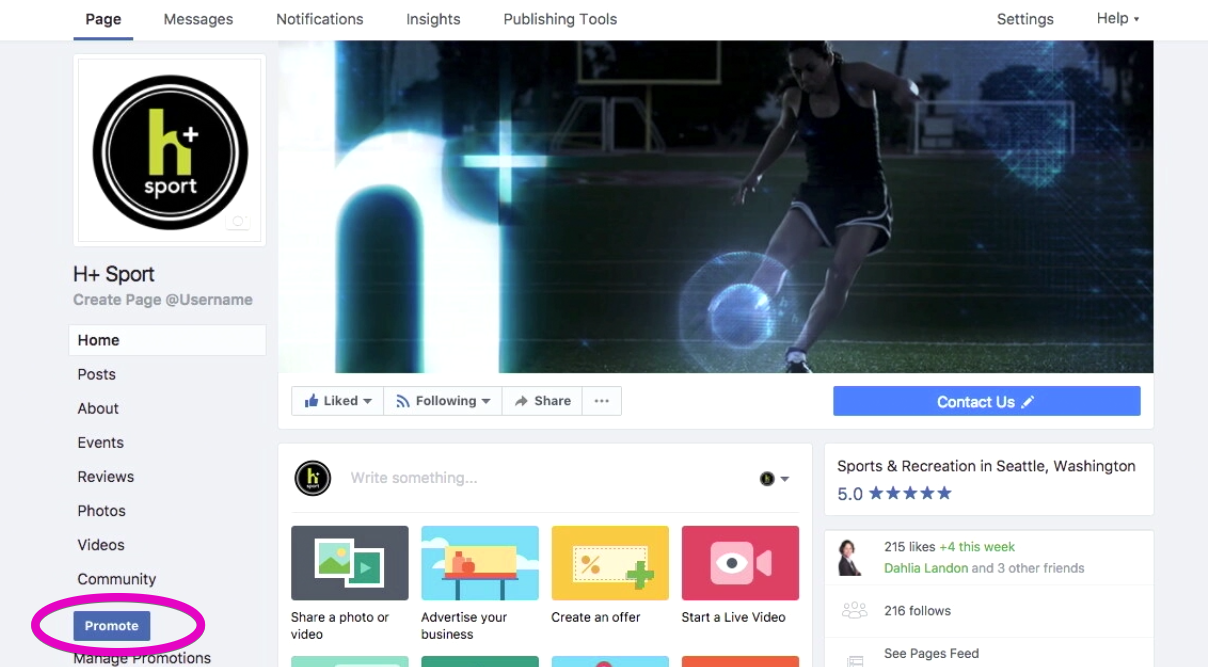 After that, a window like this will appear.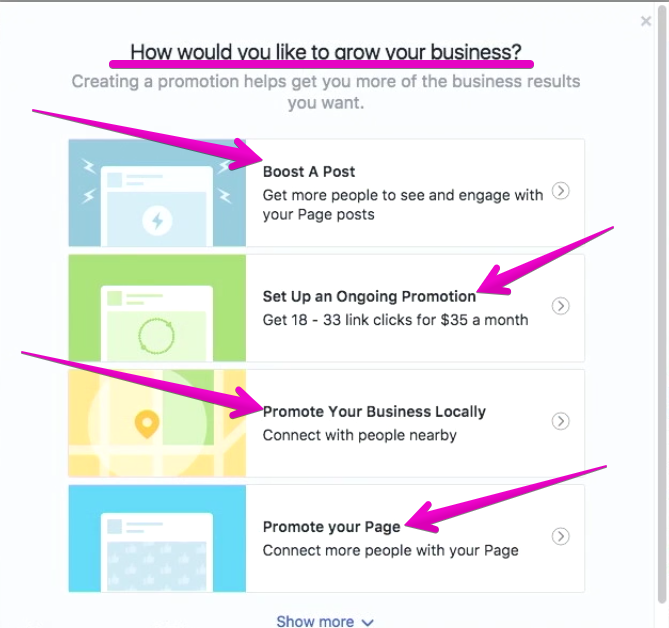 Now, this is basically a compact version of the ads create tool, where you can see predefined categories related to promoting your page or business as a whole.
You can boost a particular post, you can set up an ongoing promotion, you can promote your business locally and obviously, you can promote your page and, there are more option when you click the 'show more' button in the bottom.
However, according to my goal, I'm going to click the 'Promote your page' option.
(click-promote-page)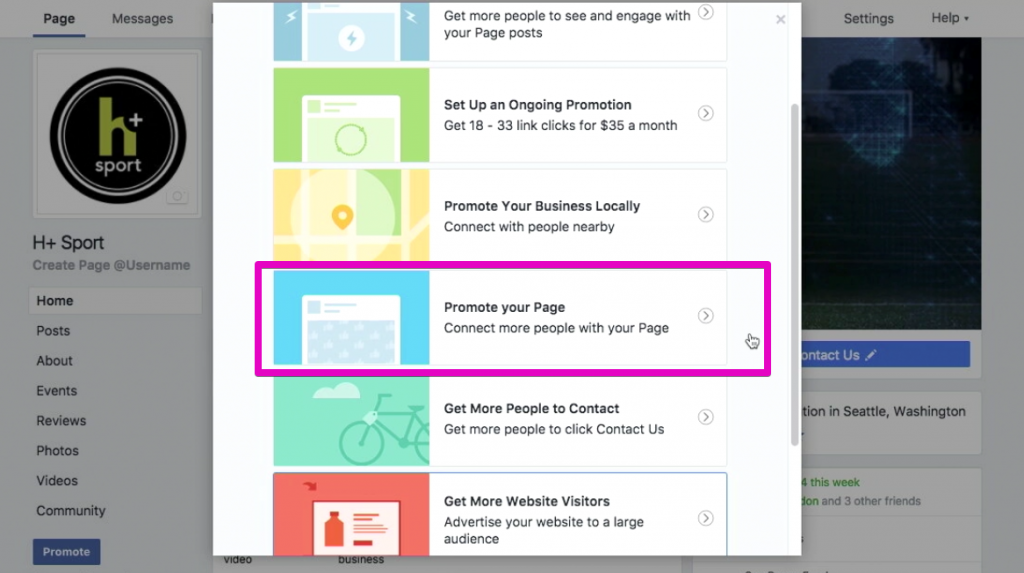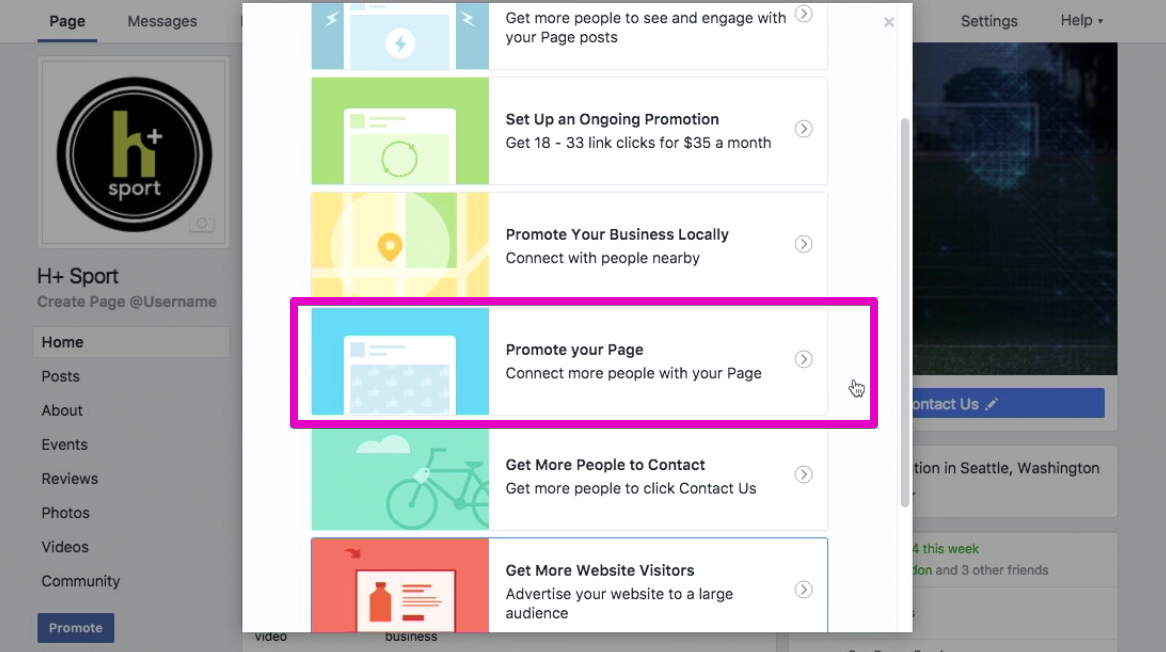 And a window like this appeared –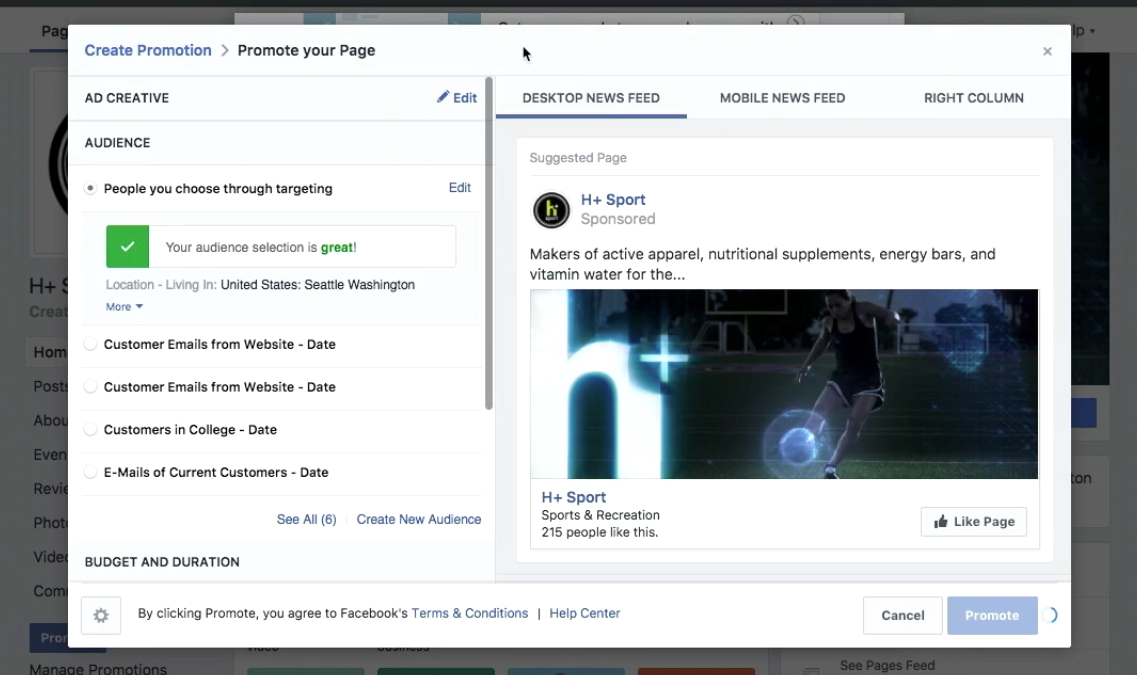 Remember I told you that when creating a page promotion ad, Facebook themselves do almost everything, making the job effortless? I was not lying.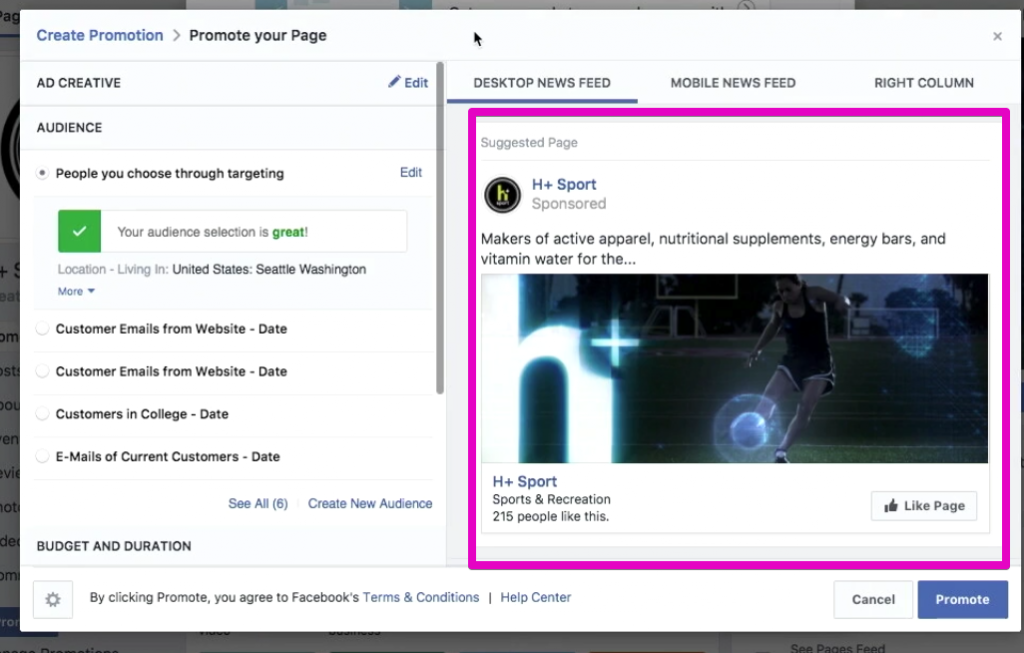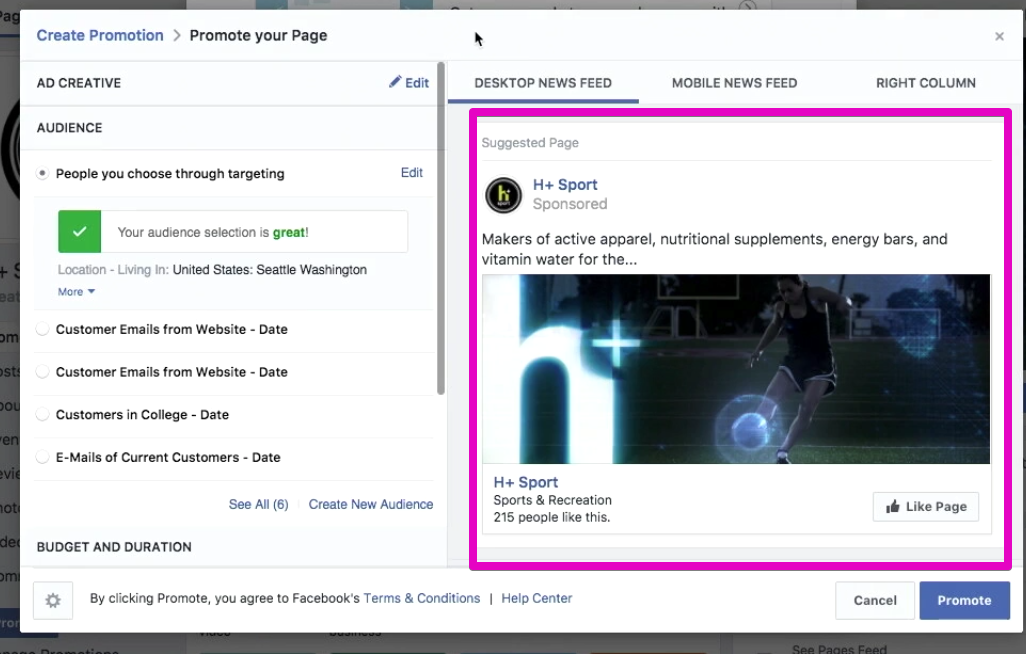 Look at the right hand side of the window. You can see there's already a preview of the ad that you will be using to promote your page.
And the ad already looks pretty good. The automatic information facebook pulled is not as weird as the regular ad, right? It already sound pretty good without us modifying a word (however, we're going to still modify,lol!)
For creating this preview, facebook pulls our cover photo to use as ad image and for the text, it uses our page description and other info in our pages "about" section (now you know why it makes sense).
If you're not satisfied with facebook's work, you always have the freedom to modify it.
To do so, click the 'edit' option laying at the right-hand side of "Ad creative", in the left top corner of the screen.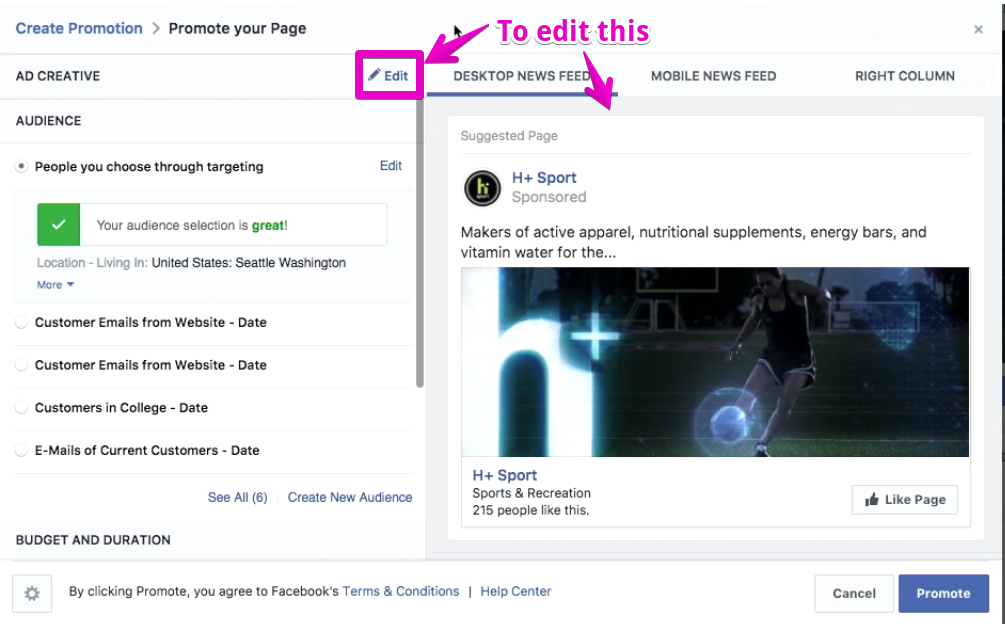 There, you can see a box opened underneath where you can type in your desired text that'll appear above the image.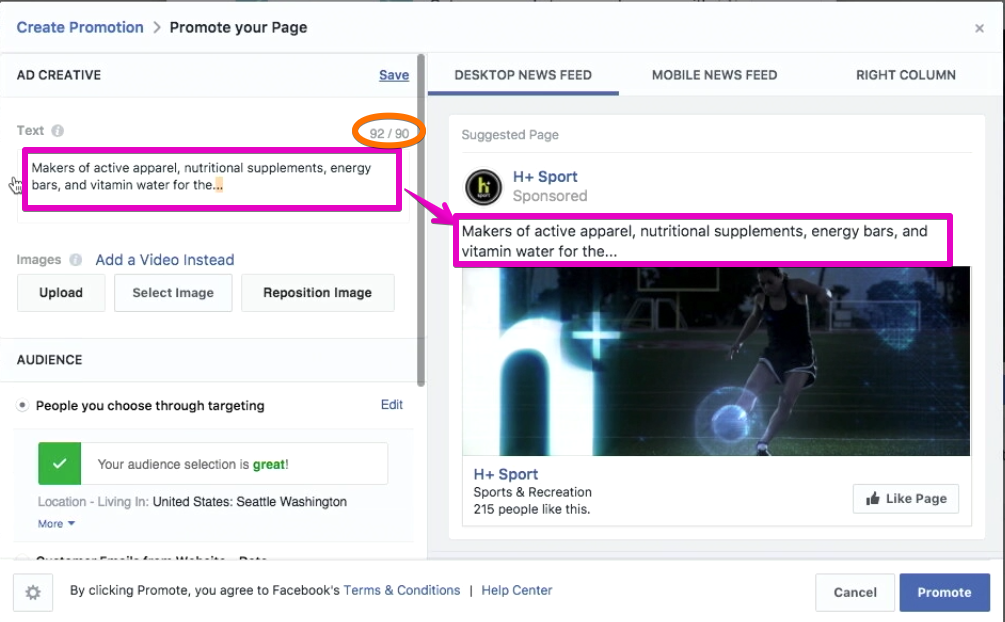 Remember, the limit is 90 characters to any lengthy paragraph won't do any good. Again, be short, sweet and punchy.
Also, If you want to change the visual, means image or video, you could do that as well.
Click "add a video instead" to replace the image with a video.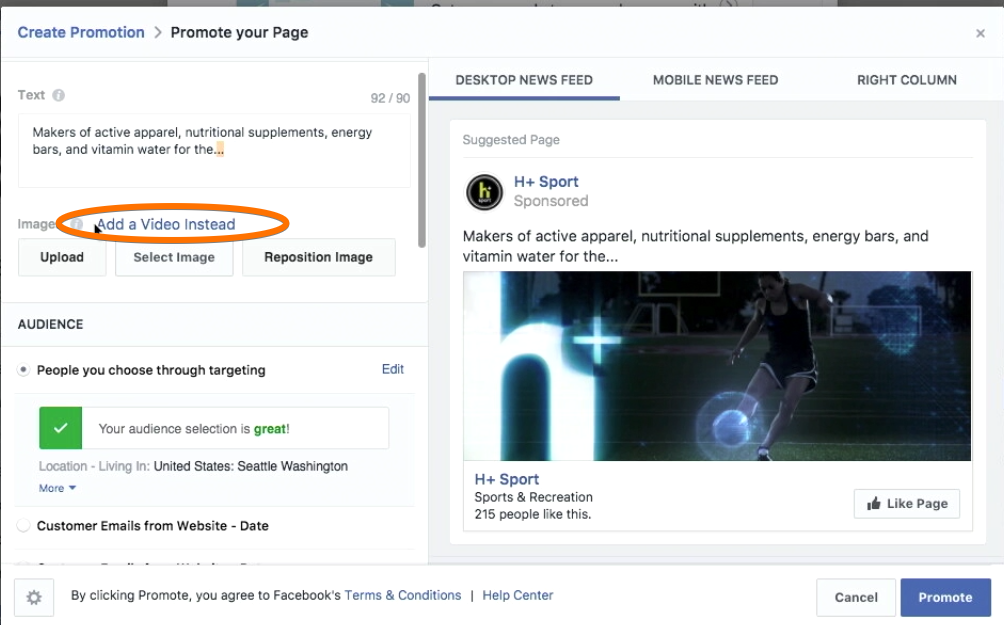 To replace the automatically pulled image instead, click "Upload" to add a new image, or "select image" to choose one from your gallery. You could also reposition the existing image by clicking "Reposition Image".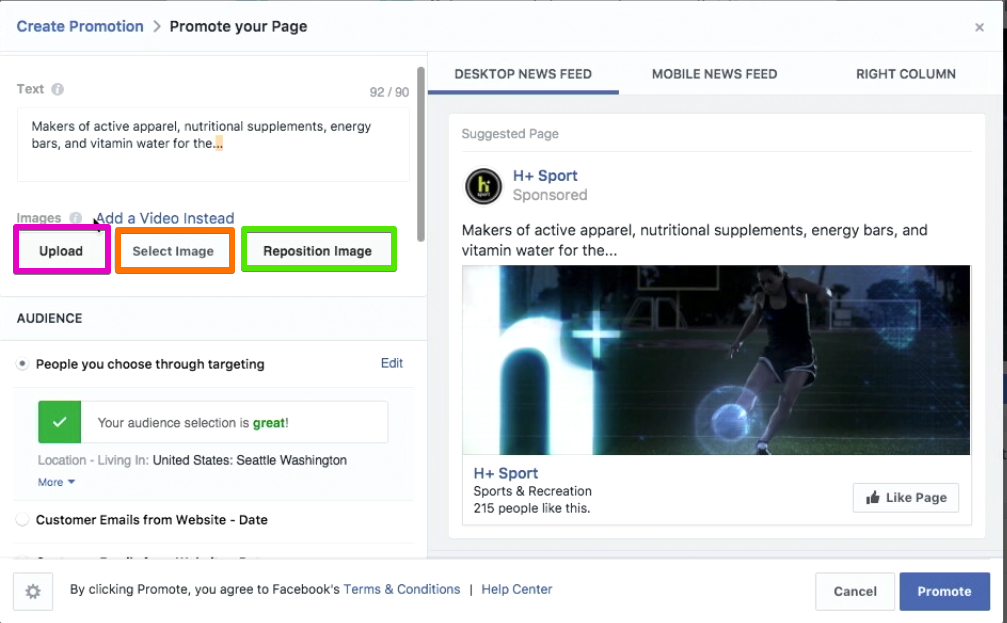 Below that, you can see that is says "your audience selection is great"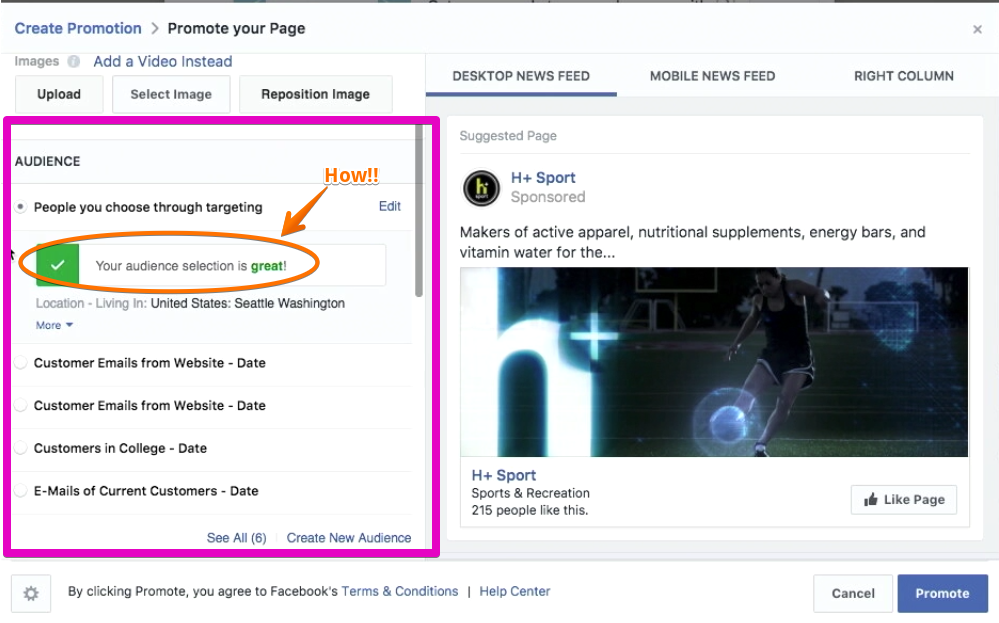 Wait a minute, did we even select any audience? No, right? Then how come?
Oh wait, how did we forget that facebook have our back? They've done this too for us.
Now, another question may appear, how did they do so? Should we rely on that or choose by ourselves?
Well, this did the audience targeting with the information we provided when we opened the page. We had to tell facebook at that time about our primary audience, and facebook did this targeting by themselves with that information.
Now, if you want, you can still define the audience by yourself for this page promotion ad.
You can either use one of your audience that you have defined in the ads create tool for any of your advertisement campaign, or you can create a fresh new audience for this promotion ad.
To do so, click this 'create new audience' button –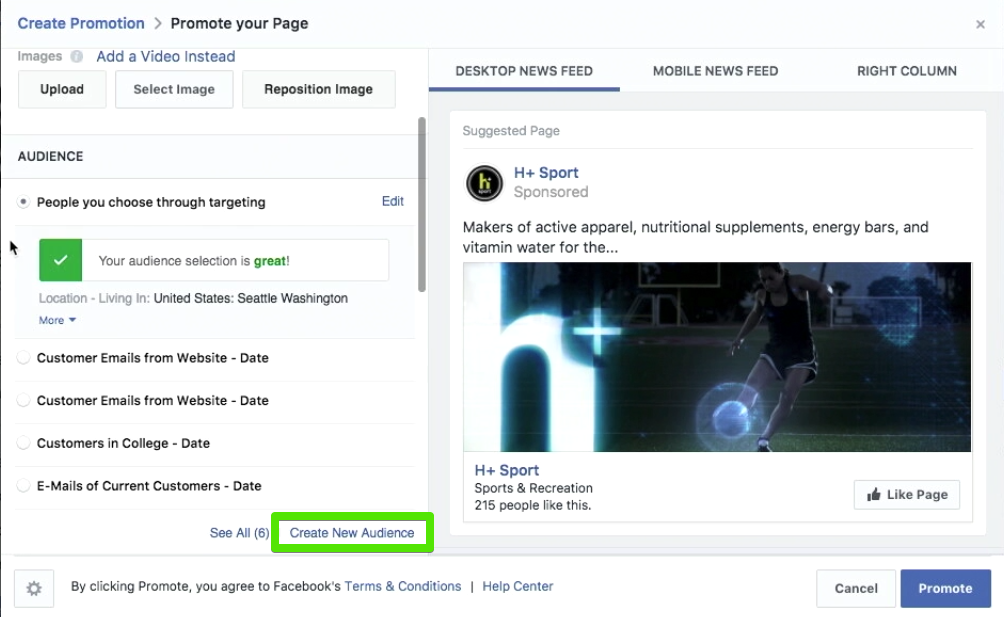 For our promotion ad, I'm going to go with facebook and keeps things as facebook have set.
Scrolling down, you can see the compact version of the budget and duration setting window.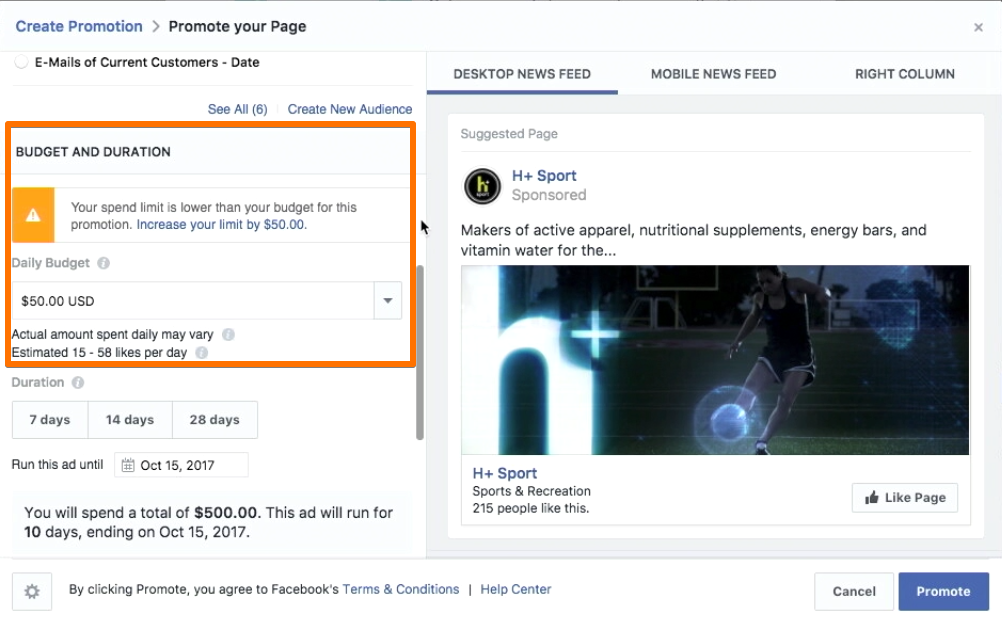 As you can see, facebook has set to budget to 50$ a day for this campaign.
Well facebook! This time we have to agree to disagree, cause we ain't that rich man! (well I ain't, you might be)
And facebook themselves know that very well, that's why they've given me this little warning.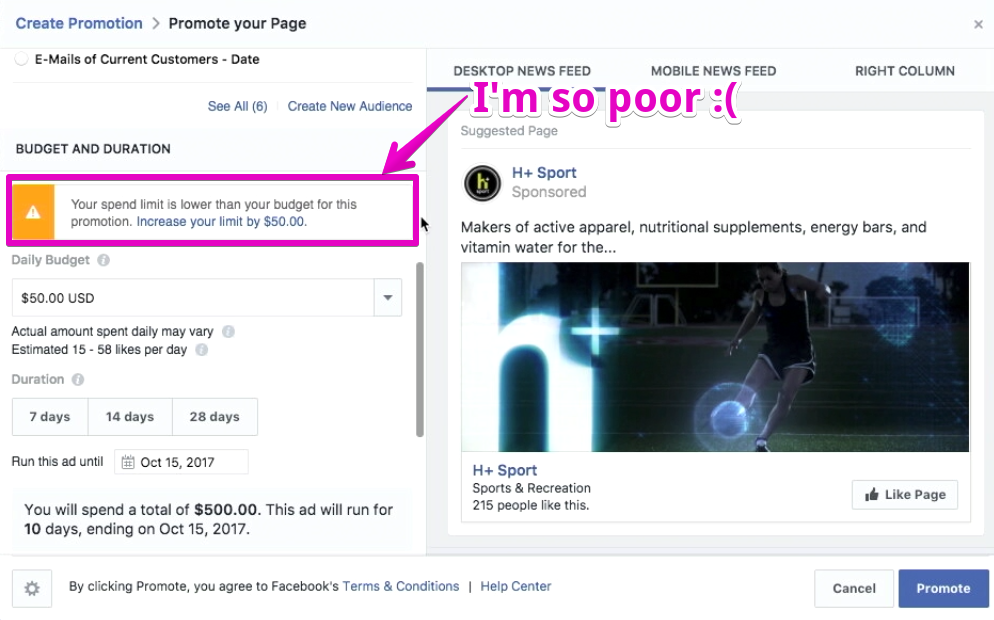 As you see, it says even my overall spend limit for facebook ads from my credit card is lower than 'daily' budget facebook has set! What a joke man!
So as I'm poor, I'm going to lower the daily budget that is below my maximum spend limit. If you're rich, you may up the maximum spend limit to vanish the warning.
Okay enough joke! On a serious note, I recommend not to spend that much amount of money for your first page promotion campaign. So you better lower the daily budget.
I am so poor that I've set my daily budget to 3$, and for that, Facebook tells me that I might get one to four likes a day for that money.
Underneath, we have the option to set our desired duration.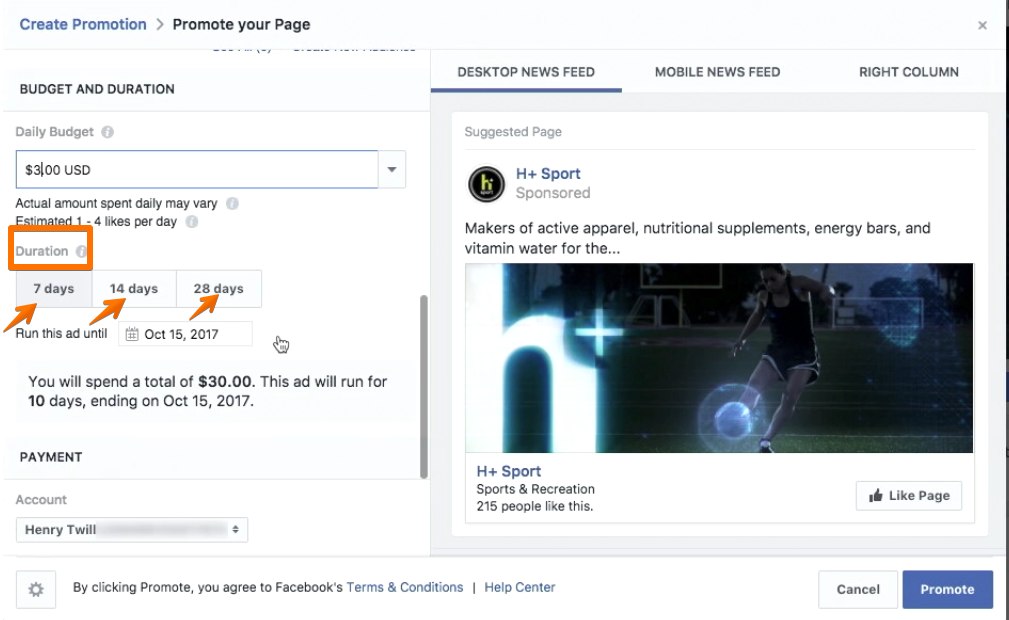 So I can set the duration for my promotion ad to 7, 14, or 28 days.
Also, I can set any specific date to end the promotion from the calendar below.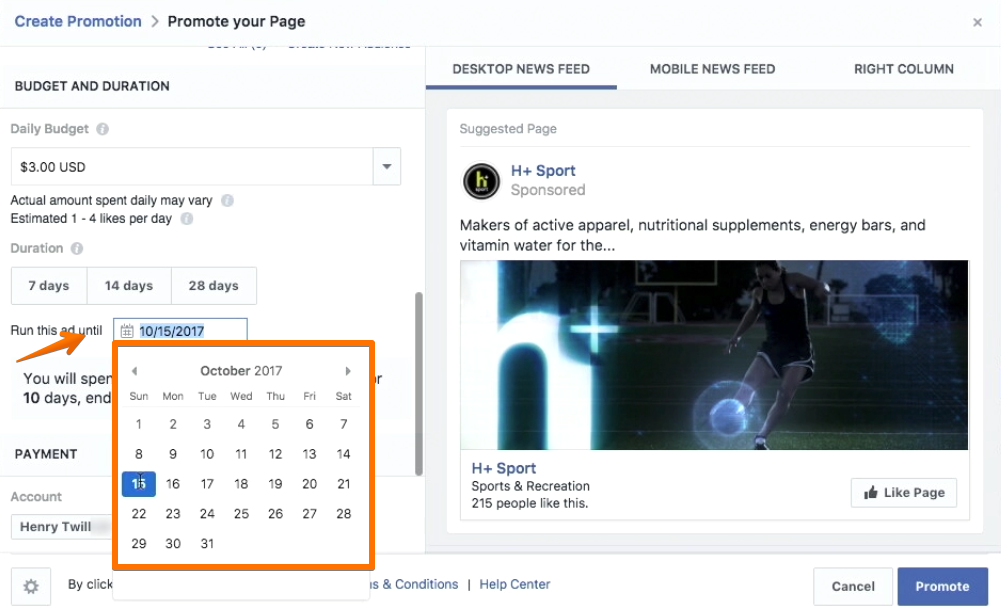 Underneath that, facebook tells me how much I'll spend in total for this promotion campaign, multiplying the daily budget with the number of days the promotion will run.
Finally, we have the payment option.
So here I'll select my ad account that I wish to pay from and I'll also select the payment method.
Last but not least there's the option to get updated.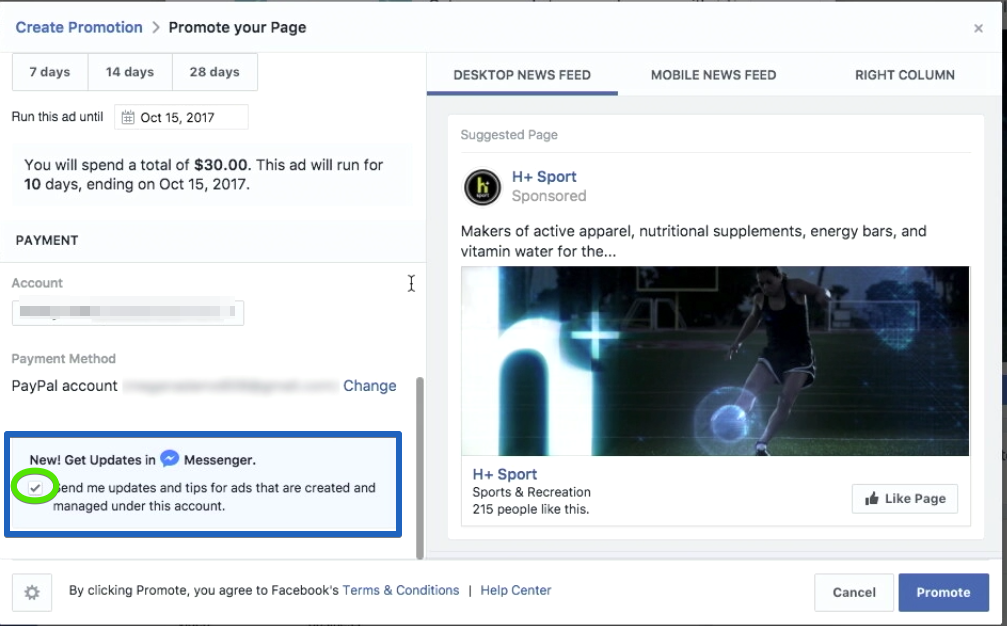 Facebook has introduced this new feature which is to inform you about this promotion campaign through messenger, where we usually stay more active than email.
If you want to stay updated, you just have to click the box on the left, which is ticked by default though. Untick that if you won't want to enable this feature.
And that's really all about creating a page promotion ad. Weren't that much-much simpler and effortless than creating a regular ad? It certainly was.
But before we finish, won't you want to have a look at how your page promotion ad will look? Let's have a look then.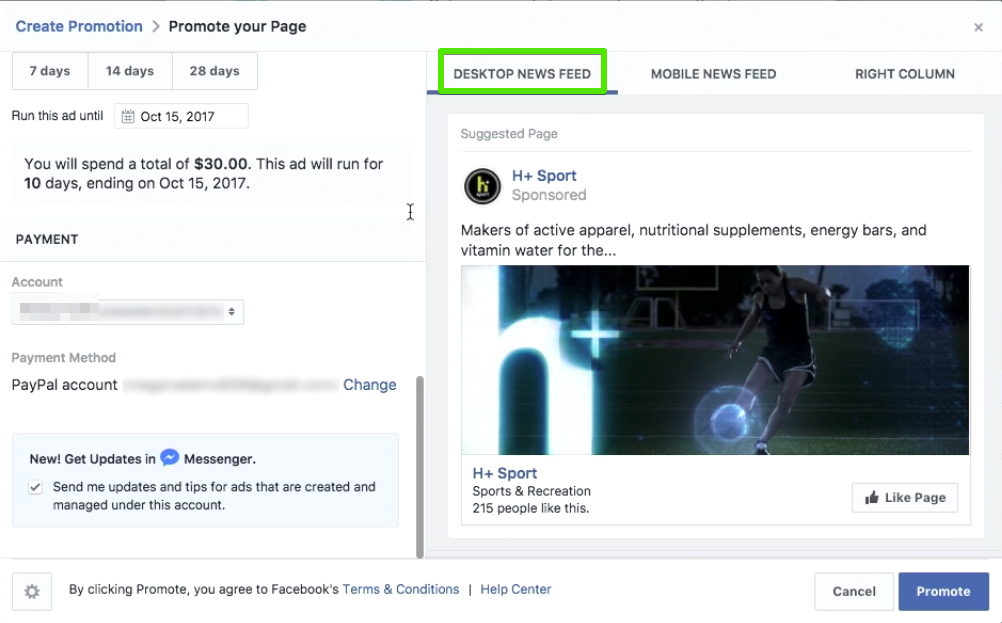 This is the desktop news feed view of the page promotion ad.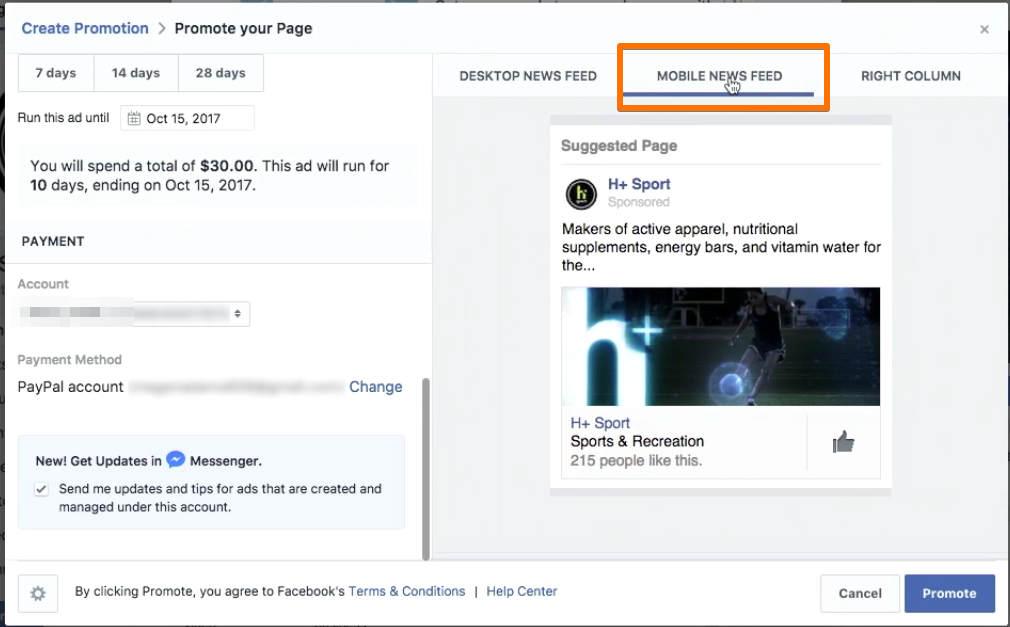 This is the mobile news feed view of the page promotion ad.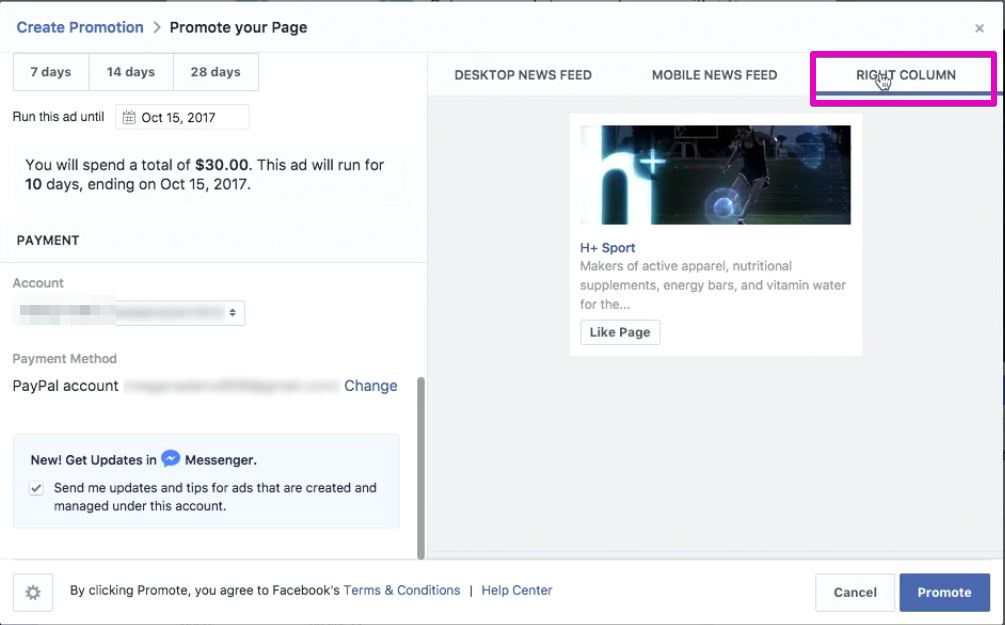 This is the desktop right column view of the page promotion ad.
Yes I know what you're thinking, where are the other views?
Well, as I'm mentioning, again and again, this is a page promotion ad that we create in the compact version of ads create a tool, this is not a regular ad.
And for this kind of ad, only these 3 placements are available. But be assured that these 3 are the most effective placement for such promotion ad, that's why they are chosen from the 9 placement option of the regular ad.
When you're done with everything, simply click the "promote" button to promote your page.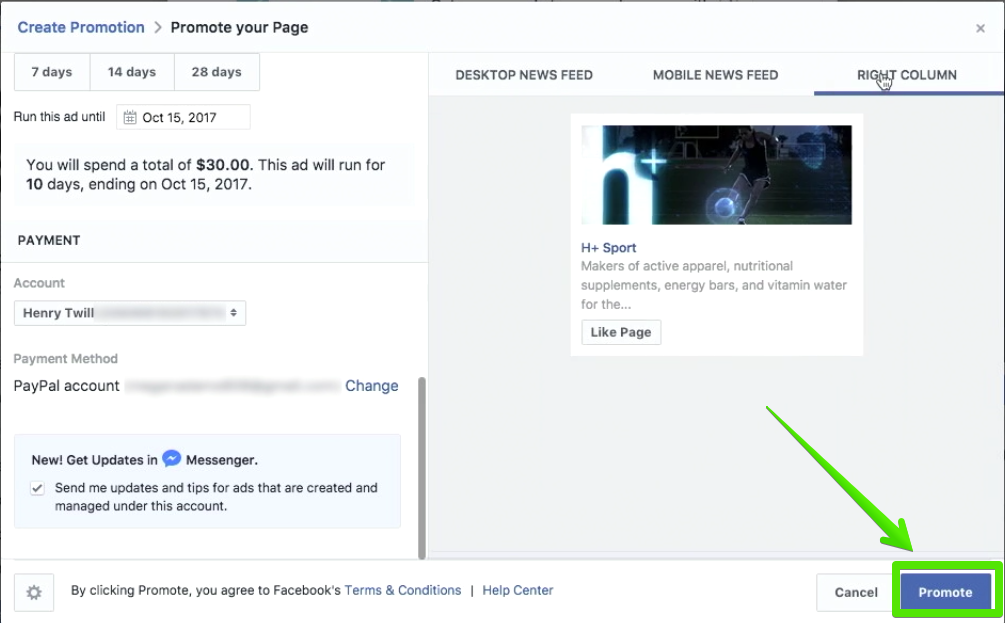 One thing to know here is, you can simultaneously run your regular ad campaign with page promotion ad, no worries!
Promoting Page Organically
Well, if you're interested to know the best practices to gain more likes to your facebook page organically, you're in for a treat. Below I've listed some good practices for facebook page owners that can get them some organic likes.
Include Facebook Like Box on Your Website
You may have seen like boxes like this when you visited various websites.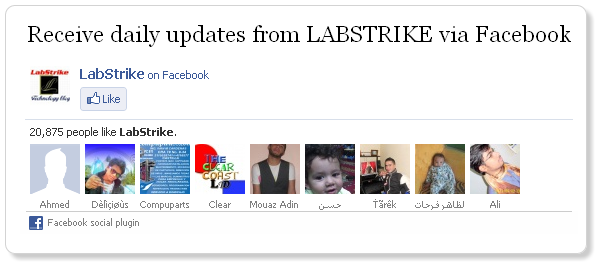 You probably have liked one of those website's facebook page through that button. If you've done so, you know that those boxes allow you to like a facebook page without heading to facebook.com, which is very effortless.
Now, that works quite well. If someone is impressed with your business's website, he/she might be interested to get updates from you, which they can get through facebook.
But it's quite unlikely that they'll head over to facebook and search for your page to like that.
But if you can make that job easy for them, you may get some likes from interested people.
Also, the like box could be a great way to leverage your social proof which can help to amplify your page. The like box shows the number of likes in your page that you already have, also faces of some of your fans.
Facebook has its own plugin for it. Go to this link, customize the like button as you want, generate the code and embed it wherever you'd like it to appear, and it'll show up in those places.
Fill you Page With Searchable Information
Your Facebook page needs to have relevant and helpful information in every section of it, especially the "about" section, and that information better be searchable, means carrying relevant keywords in it.
Search engines index the information in your page. So if the information in your page contains similar terms (keywords) that people are going to search with for those topics, your page are likely to show up which will get you extra visibility.
For example, your pages 'about' section should carry these information –
A copy that describes what your business has to offer, and which carries those terms that people search with when to look for information on those topic.
For example, if you're a business that provides web design service in Malaysia, you want to start your copy like this – "looking for a web design company in Malaysia?" and thus.
You should include your website link.
Details address of your business.
Phone number of your business.
Any other information that helps your prospect understand your business better.
Invite Contacts to like your page, and tell your fans to do so.
You probably already have a lots of contacts like friends, family, and other connections that are eager to like your page, all you need to do is ask.
You need to send invite to those connections with the invite option of your page.
There's another way around to get connections (email connections) like your page. As you have a website, you may have a good list of emails in your purse, maybe of your newsletter subscribers, maybe of your customers and so on.
You can use the "Invite Email Contacts" option of facebook to show up in the "Page Suggestion" option of those people.
To do so, you have to go to the "Build Audience" option your page located at the top left, and "invite email contact" from there.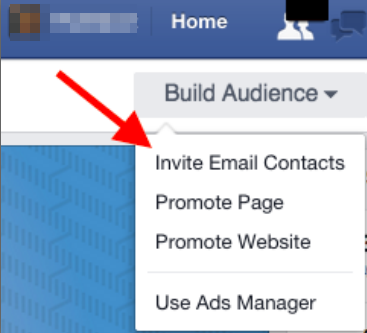 From there, you can upload the list you have, which is limited to 7,000 per day and 5,000 at a time.
Doing so, you'll show up on "page suggestion" section of those people's newsfeed which will earn you a good amount of likes.
Post Valuable and Engaging Content, Be Active
I know, nothing could be more obvious that this. But many seems to overlook such obvious thing.
Why people like a facebook page? To see content and stay updated, right?
They want to see valuable, engaging content from you. That's what you need to do to grow your audience in long term and attract further audience.
You need to keep posting relatable and relevant content every then and while. Keep adding value to their life with those content.
People may not remember you by one great post of yours, but it they notice you posting high quality, relevant and relatable post every now and often, you'll be at the back of their mind as a valuable resource.
Also, make sure you create the post in such a way that there's a scope for audience to engage.
That can be done by asking their opinion about the content, asking them to leave a comment if they found it helpful, asking for their suggestion on which type of content they want to see coming and so.
When they engage on your post by liking or commenting, you get the chance to show up on their facebook connection's news feed as well as per facebook's mechanism.
One step further, if you can make the content so relatable and valuable that they share it, it's even better for you to gain more audience.
So the bottom line, keep posting valuable, engaging, relevant and relatable posts.
What to post?
Well, you know better, since it's your audience, and you'll know what they want to see.
If you're a e-commerce store selling electronic products, you may share contents on how to use those products for maximum utility, how those products' life-cycle could be increased, little tips and tricks around those products, recent big news in electronics industry, funny memes sometimes that are related to topic (not too much) and so on.
If you can't get any idea out of your head, you can have a look at competitors' and similar niche's page to see what they're sharing, to generate some ideas.
And when to post?
As frequently as possible. You wanna show up in front of them as many times possible, with more and more content. So try to post as frequently as possible.
Wrap Up for This Lesson:
So what are you waiting for? Get going with making your facebook page bigger. Go create a page boosting campaign to attract more likes.
Also don't forget to bring the organic tricks into practice, as they're good for long-term growth of your page.
See you in the next lesson where we'll be discussing how to boost a particular post on your page for more engagement.
Till then, Peace out!