When it comes to ranking local businesses, the best friend for an SEO is Google My Business. Claiming and optimizing your GMB listing is possibly one of the best ways to get local rankings.
And if you want to show up in the Google Local 3-pack (the map), you must claim and optimize your Google My Business properly.
Another important reason why you should care about your GMB listing is – when someone searches a business by name, Google shows them a knowledge Panel at the right side of the screen that displays detailed information about that given business.

For example, when I searched for "Stumptown Coffee Roasters" –
This showed up –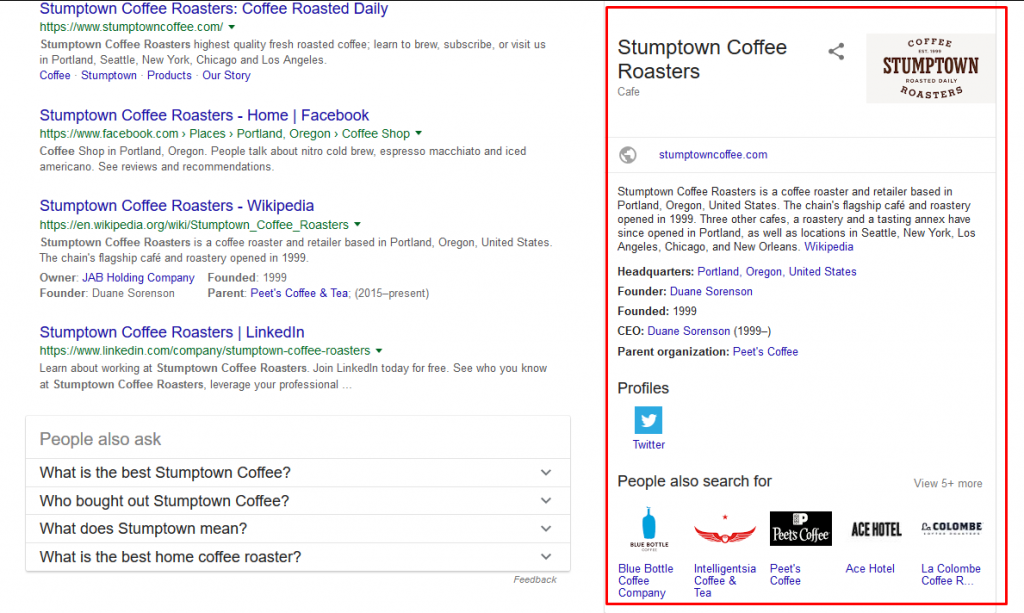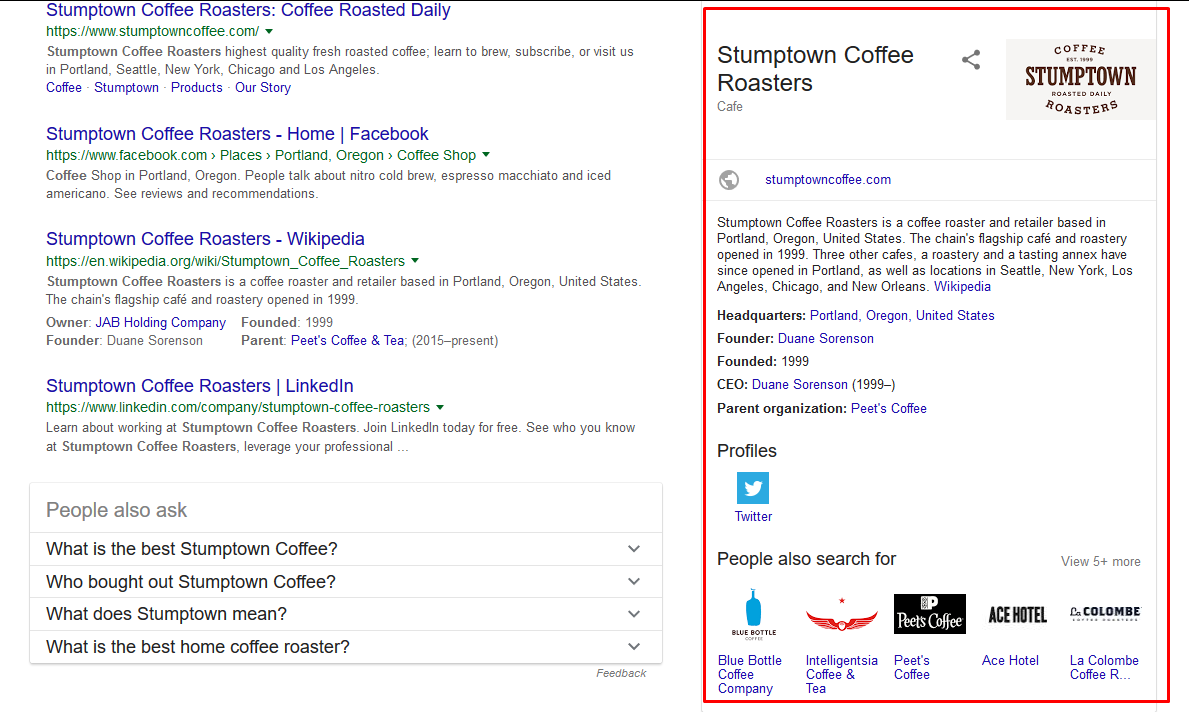 These details are primarily pulled directly from your GMB listing, and in some cases from other online sources as well. The basic information, like the address, the phone number, and the website are pulled from your GMB listing.
This panel can help you with a higher conversion rate with these details showing a right off the bat without having to check the website for such.
Now, these are old-school features of GMB, and Google loves to introduce updates on a regular basis.
Maintaining that, they've introduced a new update of GMB that comes with amazing features which will help you get more out of your GMB listing, and also ease to maintain it as Google now lets you manage multiple locations with one dashboard in this update.
As always, new features come with new dilemmas, confusions about best practices and so on. Here are the answers to the most common questions that'll remove your confusions regarding these issues.
Answer: Yes!
Anyone can suggest a change or edit to your GMB listing, and this 'anyone' can be your competitors too.
While it does not seem to be the fair judgment to most business owners, it is what it is. Google have their reasons behind letting everyone suggest an edit; they probably want to enhance a listing with such suggestions.
Often it's seen that many business owners claim something to have in their business listing that they do not have, like a parking spot. Google probably wants to deal with these fraudulent claims with user-generated suggestions.
But, what can be a point of criticism for this feature is, you might not even get notified through email or such about the change happened based on user suggestions. This can be also changing your physical business location.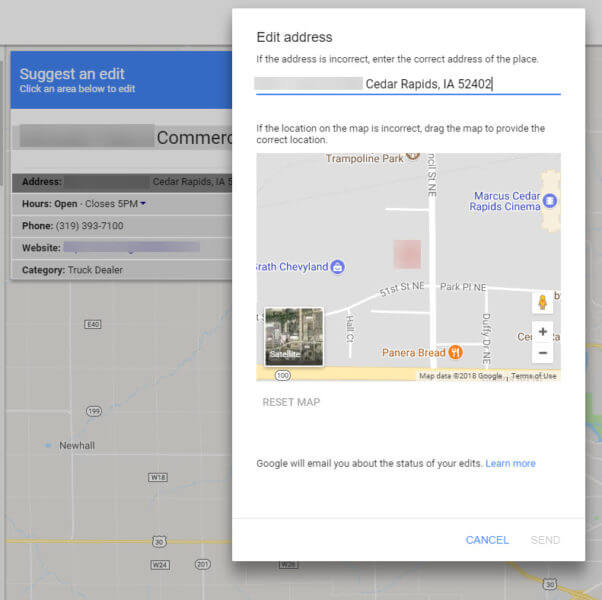 Any competitor might try to sabotage your business by changing vital information like address, operating hours and such.
If as the owner of the business, you were notified what's about to change; you could avoid such wrong changes based on wrong suggestions. So, I guess Google should have taken this aspect to concern as well and make things fair for both parties.
But, given that it is what is it, the best practice from your side is to log into your Google My Business dashboard at a regular basis to make sure that such incorrect or inaccurate changes haven't been made to your listing.
Since you often do not get emails notifying you changes, you need to check for such notifications by logging into your GMB dashboard. After logging in, switch to the "classic view" of the dashboard: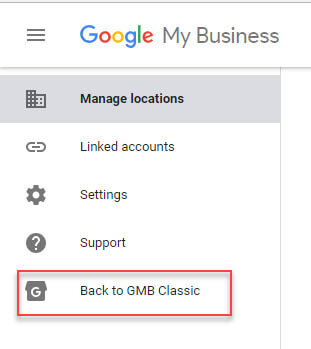 Click on "Google Updates" from the dashboard where you'll see a box to 'review' updates that were either suggested or made.
If you see anything here, that means Google made changes to your GMB listing based on information they found from another directory, google maps or from a trusted google user.
Depending on the circumstances then, you can take your action.
Answer: No, not really. So I would not recommend wasting the limited space.
I know many people think that Google My Business posts are the same as social media posts, but they are not.
First off, you get a minimal space, which is 1,500 characters (not words), and the ideal length being between 150 and 300 characters. If you go more than that, the text gets cut off, and the reader will have to click on the post to discover the whole of it.
That's why it's wise to put the most important content at the beginning of the post rather than wasting space using hashtags. Hashtags are not any good to get you ranking anyway!
But, if there's not much for you to write, or you're putting a funny picture to engage the audience, you may use hashtags then. It's better to write something at least than just putting a picture and write nothing at all.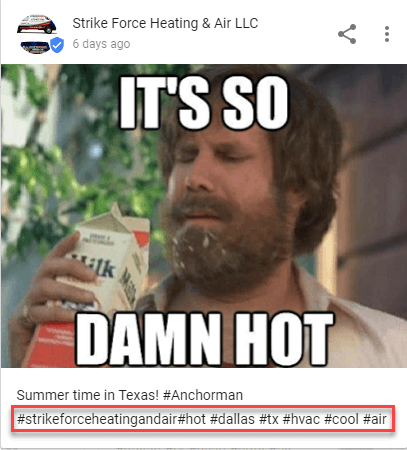 This guy here thinks that hashtagging his business title will boost the ranking for him, which is not the case.
You can instead promote your business with google my business posts by sharing events, news or updates of your company, sale's or special offers that are running and so on.
By the way, did you know that google my business posts stay live for a week and then go dark? Going dark means they don't get deleted, just get shadowed by latest post.
They're still visible when someone clicks the current post, and people can view them by scrolling.
Did you also know that you can create "dated" posts? Like you have a sale going on from 3-6 November, and if you create a post on that, it'll automatically 'go dark' with the end of 6th November!
As a business owner, you should know all GMB post facts like these.
Question #3: Can I get fake GMB reviews removed?
Answer: You get flag them for the GMB team to review it, the decision is theirs.
Read more about Dealing With Google Reviews – Handling the Negative Ones and Removing the Fake Ones!
Sometimes customers might be dissatisfied with your service and write negative words about your business, which are not the one you want to flag.
There's some case when someone intentionally wants to defame your business and might write negative words without even trying your service, or write wholly made up review to slander you. These are the ones I'm talking about.
First of all, go through Google's Review Policies to find out which review you have the authority to flag and which you don't. Reviews that violate this policy have a good chance to get removed upon flagging.
Now, coming back to the point, it's easy as a piece of cake to flag a fake review, but hard to convince the GMB team. But before flagging, give a helpful reply to that review to show your warmness. Google has tips for you to be warm.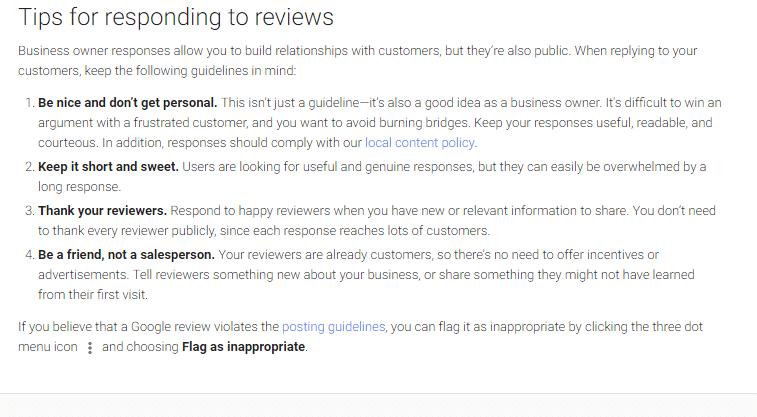 After the reply, log in to your GMB dashboard, find that specific review, click the three dots next to the review, then click on 'flag as inappropriate.'

then,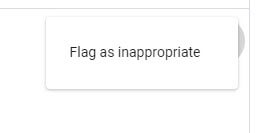 Quick Tip: Flag a review inside your GMB dashboard is better than flagging it from your browser as it gets faster response and you also get a confirmation email from google letting you know that they got your request, which you don't get by flagging from browser.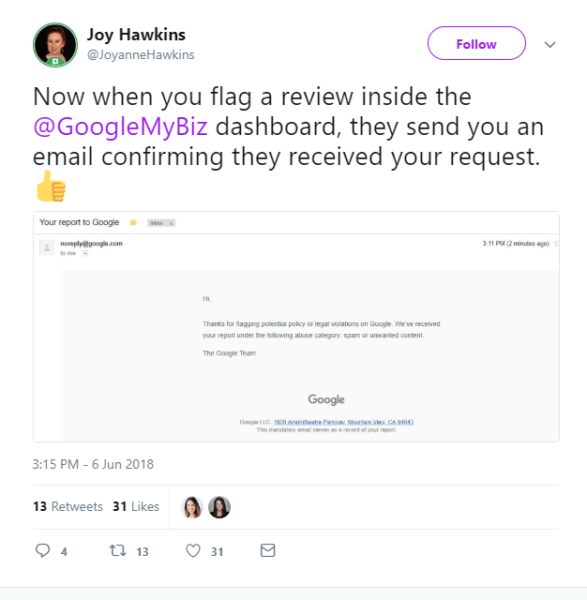 After flagging the review, you have to wait up to three days for the GMB team to get back to you. Here's the tough part, which is to convince them.
You have to tell them the whole thing in detail and give enough facts to convince them that the review is fake. If the reviewer has not taken your service but wrote negative words, send them a picture of your logbook or whatever. If it's entirely made up, make points to prove it to them.
Do not use emotions here. GMB team has to stay neutral and they won't, in any case, remove a review if you can't convince them with enough facts and point, be that a fake review. Telling how hard you've built your business won't work here.
All you can do is make points and give facts on why the review is fake and also tell them why someone might have the reason that he took the effort to do it. Explain in details, make points.
Another good method to reach out to your desired person is writing your situation at Google My Business forum. Some Top Contributors can help you reach out to that person in Google that can get the review removed.
Question #4: How can I get access to my GMB listing when I don't have the login information as one of my former employees verified it?
Answer: The apparent methods first, reaching out to that employee or agency that you hired but if it's not possible somehow then continue reading.
You may reach out to your former employee and ask for the credentials from him/her, or tell them to log in and make you the primary owner of the listing (I recommend just asking for credentials directly and changing it, why let any former employee still have access to your listing?)
Do the same if you hired any digital marketing agency to take care of this stuff.
Though the best practice while working with an agency is that they should have 'You' claim your Google My Business listing and then give them access as managers, so that they can do their changes while you stay on top of it, it's the proper protocol.
If you're someone who's thinking about hiring a digital marketing agency to manage your GMB, this is for you. You should influence them to work this way.
Coming back to the point, about recovering your GMB, you'll need to go technical if reaching out fails.
First, go to GMB Create and insert your business name. As it's already claimed, Google will show you the snippet of the email that was used to claim this business (which might jog your memory).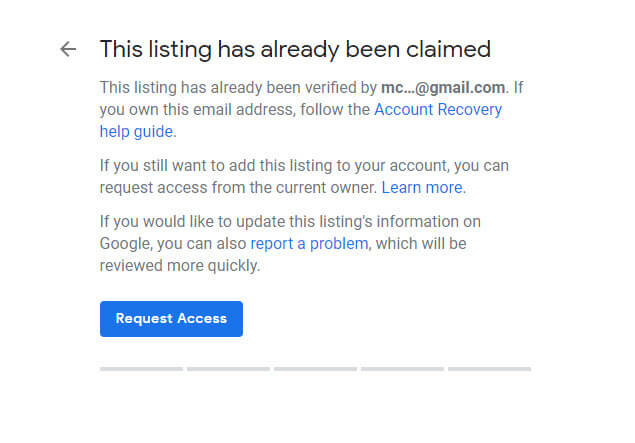 Now, if you get a hit and recognize that email, you can try logging in to that email, and if you still have access to that email, then you can access your GMB.
If you remember the email but forgot the password or lost access, then try recovering it following Account Recovery help guide.
If you don't recognize the email, click "Request Access" at the bottom.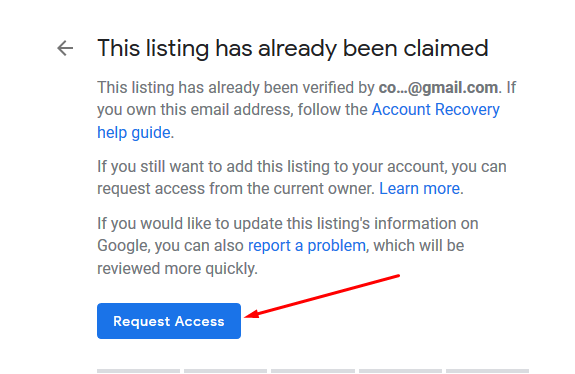 Clicking that, a form like this will open, fill it out and submit,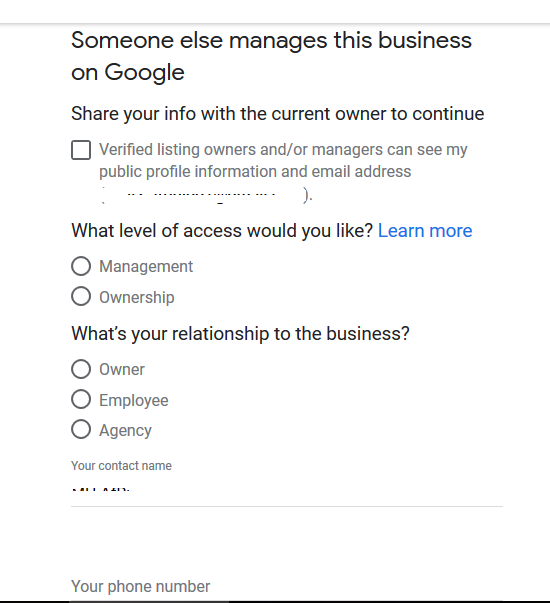 After this, you and the current owner of the listing, both will receive an email. The current claimer will be allotted a week to respond to that request. You can check the status of his/her response by clicking the link that you'll get in the confirmation email of your request submission.
Now, three things can happen here –
The owner approves
The Owner Denies
The owner does not respond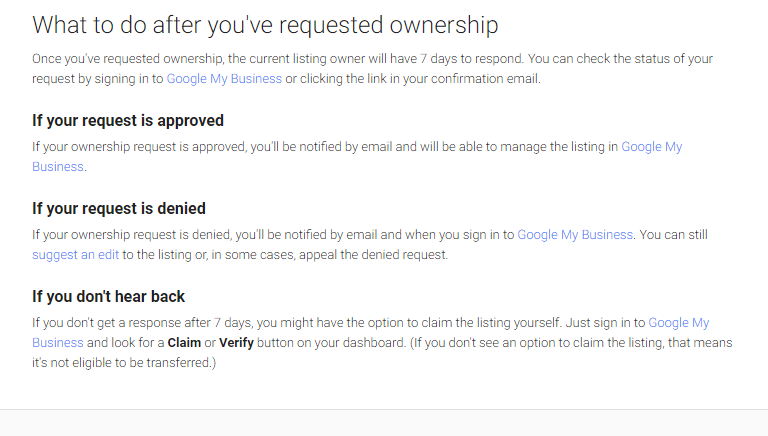 If the owner approves, then things are fine. You'll receive a confirmation email from Google and then you can set up your new login credentials usually manage your GMB. If the current owner is your former employee whom you're just unable to reach, he/she is likely to approve your request.
Unfortunately, if your request gets denied, you can't get access to that GMB listing in any other way. You'll also be notified in this case.
And if you're lucky, the denied request can be appealed as Google lets to do it in some cases.
If you got denied, you might try to get at least something out of it by suggesting a change to the phone number or the address that you've got changed recently.
And for the third case, if the owner does not respond within a week, Google might or might not let you claim the GMB listing yourself. Do a google search for your business, and there'll be a knowledge panel of it showing up at the right-hand side of the screen.
If there's a button to "Claim" or "verify," you're lucky that you can still claim the business. If there's no such option, that indicates the listing can not be transferred now.
Question #5: You haven't answered enough, there many more question I have to ask. Is there any place where I'll get the best possible answers?
Answer: Yes! There is.
For your specific questions regarding Google My Business listing, the best place for you to hang out is GMB forum.
There are many industry experts here who'll help you with your confusions, and there are top contributors as well who can help to expedite the changes that may need to be made by reaching out to Google.
Along with getting answers to your confusions, you can learn a lot more about GMB here. It's a great place to learn tips and tricks to utilize GMB in the best way. As a business owner who's concerned about digital appearance, you are strongly recommended to hang out here often.
To Sum Up
Hope some of your most asked questions are answered now and you know where to get the answers to the rest.
GMB is a powerful tool and the first step for any local business owner to make a strong online appearance. Knowing how to utilize the tool, is important!