'About Us' page is probably the most important supporting page in your website.
If built right, this page will help you position yourself as a strong brand and the go-to expert in your industry.
But sadly, most of the time they do not get the attention that they deserve.
About Us pages may go for different labels —"About", "Story", "Mission", all of which basically have the same purpose — To introduce your business, your team or yourself (in case of personal websites) to your audience.
When a curious visitor wants to learn about you or your business, this is the page they are going to look for.
So it's your opportunity to speak, to tell them who you are.
This page gives you the platform to showcase your biggest selling points to create a strong impression and tell them your business's story that they might connect and convert from visitor to customers.
Today here, I want to tell you how you can decorate this stage most perfectly where you're standing with a mic to introduce yourself and connect, and your audience is waiting to listen there with a bucket of popcorn in their hands.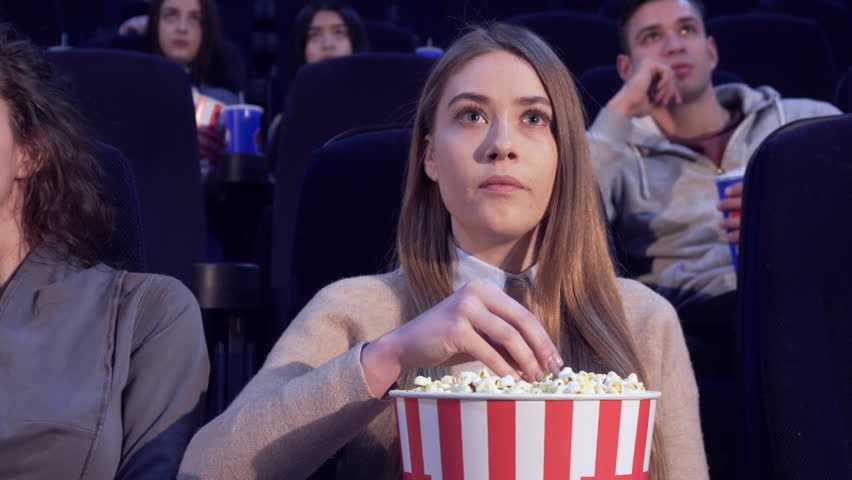 #The Must-Have Elements for an About Us Page Regardless the Industry
Basically, an About Us page is best written in the form of a story. While every story needs some basic element to flourish, so does the About Us page. Like –
The Thing You do/ Your Mission: You want to clear things out at the very beginning about your purpose. You can do this by initiating with why you started the website (to solve which problem), how things currently are and in which position you want to see your website/business in the later days. (Ways to do it is described in the later part).
Who you are: For company websites, you want to introduce your teammates/employees here, in an informal manner. Things will be more interesting if you disclose little funny secrets of theirs like – This is Natalie and there's one thing she's afraid of – The Boss? No! The ghosts!
For a personal website, you can do same as well, disclose fun facts about yourself. But for a personal website about us pages the more important thing is storytelling.
Pictures/Other Graphics to Support Your Words: Wall of words is a boring of a thing. You want to have sufficient images or videos that compliment your words.
Call-To-Action Buttons: About Us pages can get you leads of those readers that connect to your story or companies moral. So you can utilize that emotion and turn them into subscribers or send them to a page you like.
Have a subscriber opt-in form or call to action buttons there.
These are the things that need to be there in your about us page, regardless how you present them. The better you can present them, the better the result it'll bring.
Here's my suggestion on how you can implement these things in your about us page in the best possible way, along with some other decorating elements, and the flow of your page.
#The Flow to Actually Build an About Us Page That Connects (With Examples)
Start With Storytelling
You could start the story with a tagline that goes with you. This will help to catch the attention right away. Take MOZ's one for example –
They start the story right away by telling what they're good at.
Coming to the actual story, present it in the most fun way possible. There could be not much element in your hand to make to story outstanding, but the way you represent it could make a difference.
Tell what inspired you to start the company, which problem you wanted to solve. What were your initial challenges? (tell the one that the audience can understand, not every problem).


You can continue the story by writing your journey, the early ages, how the company looked at that time, how big your team was.


Then carry on with the timeline, the phases of growth, how the company grew over time.


You can also mention what the new challenges were introduced to your industry and how your company stood up to them, what big decisions you had to make!


Keep carrying the story as it demands. But don't get carried away from the timeline as you want to finish as the current situation of the company as the product of your journey.
Shopify had a great template to organize the story of an about us page which I liked pretty much. They suggested to set the scene at first and later carry on with it.
To set the scene, you can establish the status quo by introducing the characters or setting. This tells "the way things were" for you in your early days.
Next, you want to describe the problem that influenced you to act.
And carry it on with the solution you found to that problem, which is the model of your business functions, along with the obstacles you faced along the way.
Then demonstrate the how your business is actually solving that problem and show them the current scenario as a proof.
Finish this with envisioning the future. Show them the future of your company or make the visualize your goals and missions through words.
If this was hard to understand for you, here's a template which is formed by bringing this all together.
The company was started by [FOUNDERS] who identified this [PROBLEM].
They started the [COMPANY] because [EXPLAIN THE PROBLEM], and they had this [SOLUTION] in their mind.
That's why [DESCRIBE YOUR JOURNEY TO SOLUTION].
Along the way, they've achieved [MILESTONES].
We want to be [ENVISION YOUR FUTURE].
Have a look at this example –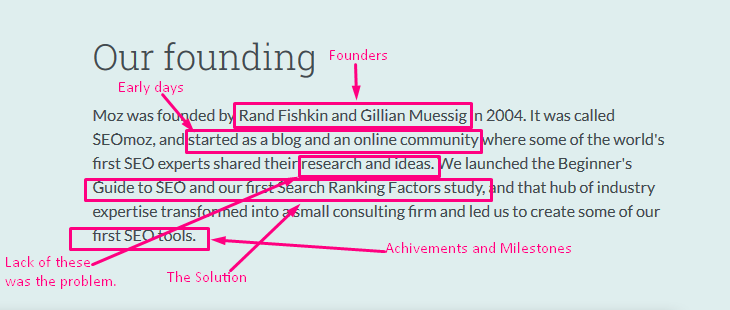 Now, what should you do in the case of a personal blog?
Well, tell your very personal story. People reading your 'About Me' page are actually interested to know your story, which tells them how you've become 'This' what you're today.
But before that, the good strategy is stating your achievements first, to remind those who already knew and to tell them who didn't know. It makes people more interested to know about you and how you've achieved what you've achieved.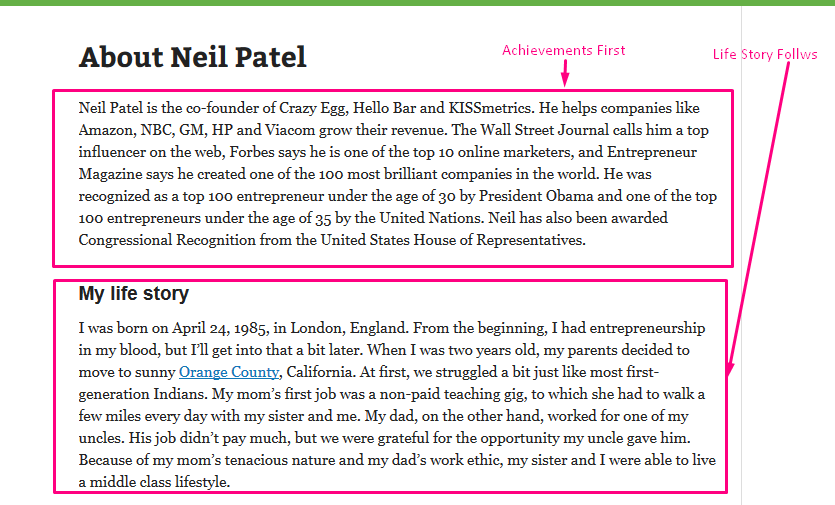 Now you've made them interested enough to spend their time reading your personal story, so start showing them how your life was.
Give a little intro of yourself (optional). But what's not optional is, telling them how it all started, that one spark or one thought that went across your mind or one incident that influenced you to start all this.
Divide your life story into some phases and organize them according to the timeline. Phases are like 'your initial days' where you started little, another phase is that when all turned big, a phase could be the change in your path and so on.
Remember you've all the floor yourself when you're writing your about us or about me page. People are reading that page not to buy anything neither looking for any information of their interest.
They're reading this page only because they actually want to know about your business, about you. So help the visualize the evolvement of your business or the journey of your personal life.
If you need to be a bit informal, don't be afraid to be so. Just feel that emotion that you had growing your company or your personal brand, and express it here through the story.
You May Introduce Your Business Model
This inspires transparency. You don't have to reveal your entire business model completely, rather you can give the audience an overview of how your business functions.
A business model shows how it's a win-win situation for both the business and the customer. For some companies, a unique value proposition is their business model which can prove to be a significant selling point. How?
You can tell the customers how you cut out the middleman and pass the savings onto them, which explains how you can offer a good product at a lesser price. (and customers don't have to worry about internal quality)
Where you source the materials from and who manufactures it for you (e.g. manufacturing in a specific country that helps their economy or by providing jobs to a certain community that helps them live a better life).
The percentage of your revenue from every sale that goes to a charity.
See this illustration from Taaluma Totes –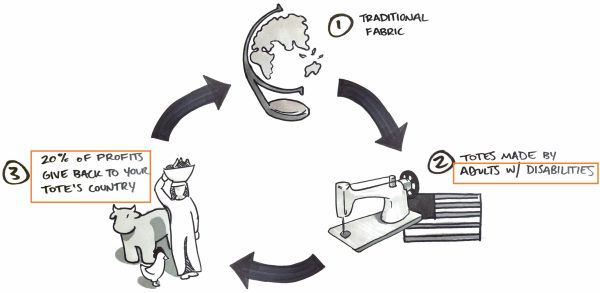 If your company have any such mentionable thing that you want your audience to know, both for your interest and their peace of mind, the 'About Us' page is one of the best platforms for you to speak. By telling these, you can also relate that back to the mission that drives you.
Introduce Team Members in a Fun Manner
It's time to reveal the team that's responsible for all the thing your business does.
Humanizing things gives the message to people that they're not dealing with automated stuff only. You'd always love to know who you're dealing with in background, won't you?
Now, the best way for me to introduce team members is the fun way.
They're not applying for jobs here so their introduction cards shouldn't look like a goddamn CV that has a boring formal picture of them and their father's name and stuff.
Post their informal fun photo and reveal fun facts of their rather being so formal here. I personally love posting weird photos but many of your employees might not love that, who's like Sheryl.

So you better go with the safer option, which is a nice smiling face of theirs but definitely not formal, and never shy away from revealing their fun facts, no matter how much they hate you after that, lol!
This is what I'm talking about!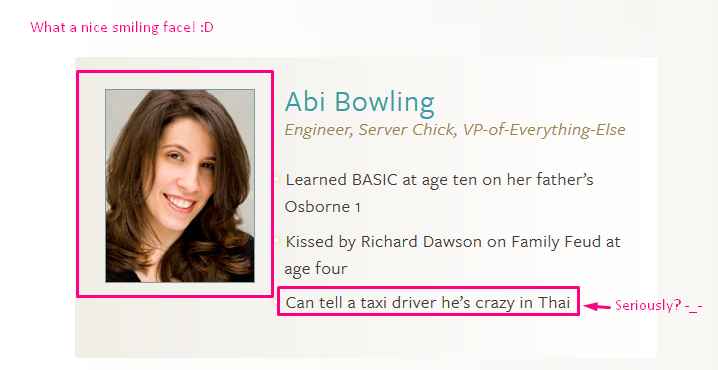 Introduce their designation just like the way Wax Creative Team did for Abi.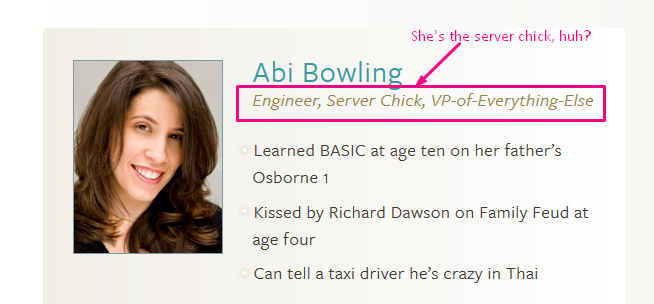 You can also mention their degrees (don't get too descriptive here, this is only to support his/her position) if they have any past work experience or so.
Also, don't forget to mention what they like to do bunking the office.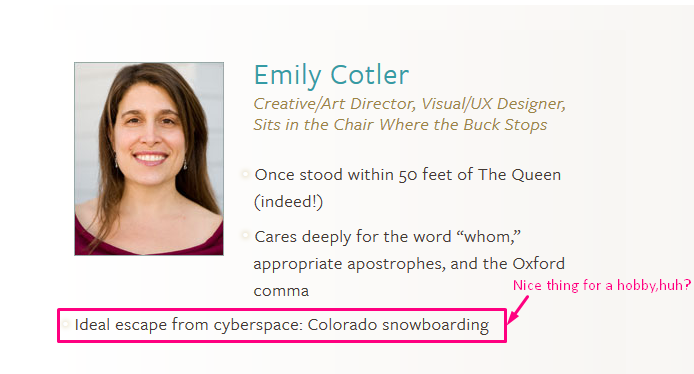 Include Testimonials, Awards, Press Mentions
If you take it as bragging, it is. But it's still a good thing to do on your about us page to show people how much impact you have in your industry and what your customers or other entities in your industry are thinking about you.
Authentic user-generated reviews/testimonials show what are the experiences they had with you which influences a potential customer of yours to act accordingly.
So it's a good idea to include testimonials in your about page.
Here's a catch, you don't want to include reviews all of which are positive, which makes it look fake, even if it's true.
If any customer made an obligation against you who has a point, consider using it to keep your position neutral. Remember, no one's beyond mistakes, but only the courageous ones acknowledge it.
If you think using a negative review can create a bad impression, then use the ones that don't literally busts you, rather talks about one single issue they had with them. This is the diplomatic position to stay in.
Also, do not forget to share your achievements. If you're brave enough to confess your mistakes, then you have got the right to proudly talk about your achievements.
Whatever award or that sort of thing you've got, proudly talk about them in this page.
And don't forget the press mentions. If other people in the industry are saying good things about you, why'd you shy away from telling that?
Wherever you've got featured, mention that.


All these help to boost your credibility and establish your position as a brand. There could be no brand that no one talks about.
Use Visuals to Support Your Words
Wall of text would be too boring and you don't want to sound boring. So use a lot of visuals to spice up your about us page, be that photos, animations, videos, infographics etc.
You can use photos of your charming workspace, the photo of that crazy fun day you guys had, or maybe of the national 'bring your dog to work' day. Make things fun.
If you have something exceptional to show, don't shy away. I once saw a green web hosting company showing off their energy source's photo, to show people that they actually went green and how they're helping to save a lot of energy.
If you have anything like that, show it.
Also, if you have a great business introduction video on your youtube channel, embed that into here.
One unique Idea: Completely Change The Protagonist
Every story has a protagonist, which were you till now in the storytelling process. How about making your business the hero, which is actually that the audience cares about.
Till now, the audience has seen the business from your perspective, why you started it, how you did, where you've taken it to and so on.
How about the business itself introduces it to the audience? What if it told the audience why it was born? How does it operate? Who are the people that help it to operate?
Think about it.
The business telling, Hi there, I'm company 'X' and I was born to solve this problem.
I started functioning at this time and I'm still here today, but I've grown a lot over time.
This is the guy (you) who helped me to be on this beautiful earth and these are the people (introducing your team) that helps me to operate.
I function following this model (your business model).
I helped so many people in my journey and this is what they have to tell about me (testimonials and mentions)
Here, have a look at me. (The visuals).
This is where I see myself in the next 10 years (your goals with the business)
How did it all sound? Consider giving it a try if you're not afraid of experimenting.
#Some Concerns While Writing Your About Us Page
There are some things that you should have an eye on while writing your about us page. Like –
Understanding the effect of words
About Us page is all about building up a connection with your audience and choosing the right words can help big time to do that.
One change in word choice can completely change the emotion scenario of a sentence as words have major impacts on our subconscious brain.
You want to have a conversational tone in your about page and evoke emotion with the words that you choose.
Marketig360 suggests, replace rational words with emotional words.
So next time use 'help' instead of 'assist', as it's more emotionally driven. Same goes with using 'send a help' or 'give' instead of 'donate'. Choose the words that influence more emotion, and influences more significance.
See how Leah does it –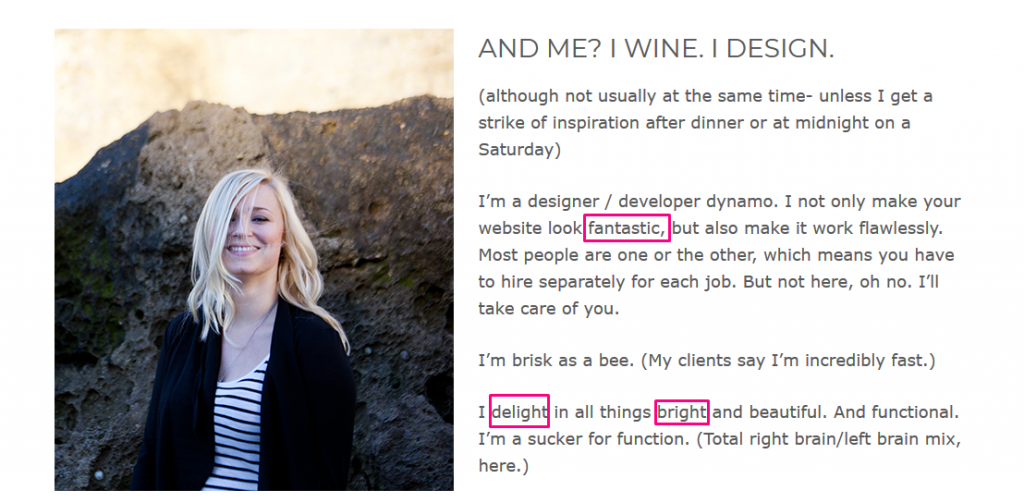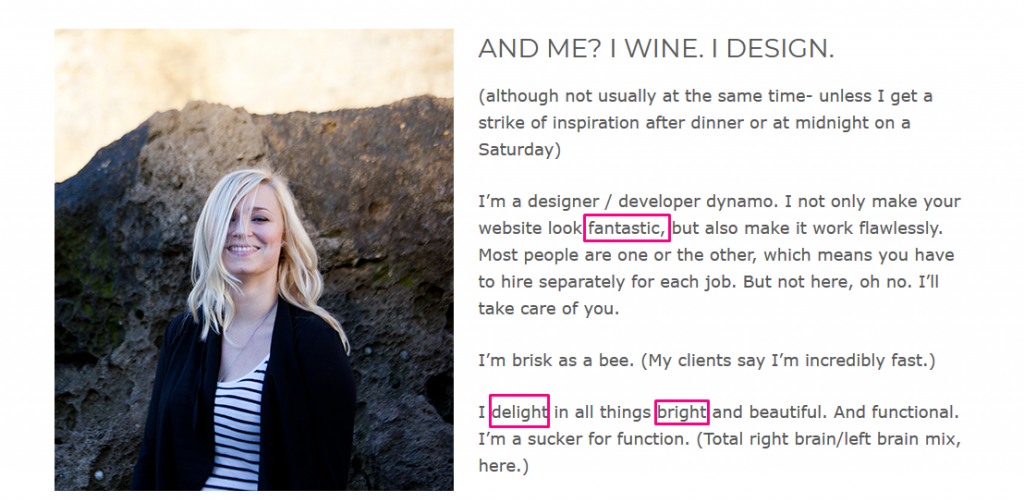 First Thing First
If you want your audience to particularly read something, find out a way to position it as higher as possible.
I know you want to start with your story and want the audience to connect with it, which is great, but you somehow have to figure out how you can toss that in the top section of your page.
That's because not everyone will connect with your story and not everyone will read till the end.
In fact, Nielsen Norman Group conducted a survey on scrolling and attention throughout a web page and found that website visitors spend 80% of their time going through information that is positioned above-the-fold.
So if you want to audience to know something particularly, be smart enough to find out a way to position that above-the-fold. And this goes for every other webpage, not only the about us ones.
Use Concrete Numbers Wherever Possible
Next time you're trying to explain a fact about your industry or your business, try to have supporting numbers with it as that makes it stronger.
Do you want to tell how much impact your company had on your industry in the last 10 years? Great, tell exactly what percentage of all the products of your industry have been sold by your company. Don't just tell them, show them.
You do charity?
Instead of telling people that "we donate a good portion of our revenue to charity", say that we donate *exactly this percentage* of our revenue to charity and it has helped *this number of people* that are served through that charity organization.
See How Merit does it –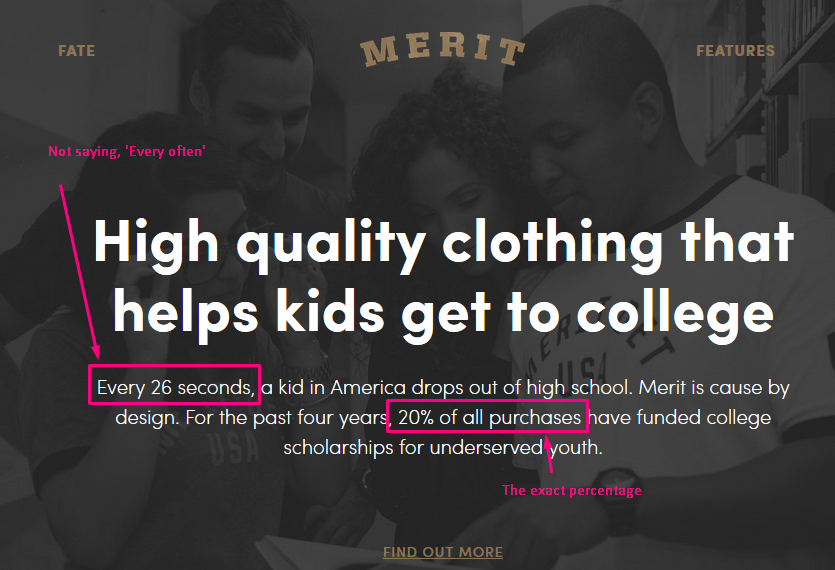 Numbers make the thing look much more solid and whenever you have the opportunity, use them.
So what's the next thing you want your visitors to do once they are done with finish reading your About Us page?You have already told them about you and your online purpose to be here and you probably don't want them just to hang at the bottom of the page with no direction!
So what to do here to make them go for the next action? The answer is creating a CTA to send them back to shop/service where they r almost ready to buy-in. Yes! if your about us is really that much convincing and influential then this is where you get your conversion. So use your bottom of the about us wisely, Remember it's where the readers get active and prepare to get engage with the service or product.
To Sum Up
When it comes to creating "about us" pages, there are no limitations. The more creativity you can put into this, to more connection it'll be and the more lead it'll generate.
These are some tips to help you understand how this game is played. Now that you know the rules, it's time for you to play better than anyone else and create the best 'About' page on the internet. If you can't still no worries, Hire a content writing service agency in Malaysia to take care of it.
Good luck with that.