Let's Begin…
I think You'll agree with me that digital marketing has taken the big share in the marketing era in this past few years.
While traditional marketing is not even close to being as effective as they used to be before.
Why so?
You tell me, what do you do in your free times? Do you watch tv anymore? You probably stay stuck to your smartphone and computers browsing social media, watching youtube and so on.
That's what makes the difference. Adoption of new technologies have changed people's lifestyle, and marketers had to adapt as well.
So they're reaching people on the digital platforms now, where they mostly hang out.
On top of that, digital marketing, if done right, seems to be way more effective than traditional marketing and brings about a greater ROI.
Studies show that, For every $1 spent on Google Ads, businesses make an average of $2 in revenue. That's a crazy ROI of 200%!
Also, Businesswire suggests that Digital ad campaigns that are Location-specific are 20x more effective than "not location-based" traditional banner ads.
Thus, with no surprise, By 2021, which is just a couple of years away, Worldwide digital ad spend is predicted to reach over whopping $375 billion!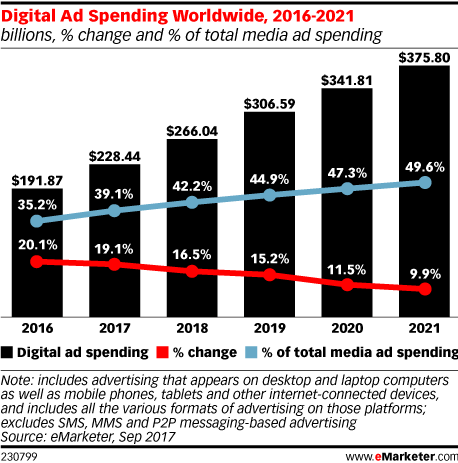 Image Credit: emarketer.com
However, the way digital marketing is done is about to change a lot in 2019.
It's not about competition though. Digital marketing is getting more competitive and expensive every year, that's a given.
It's going to change from the core of how it's done.
Think…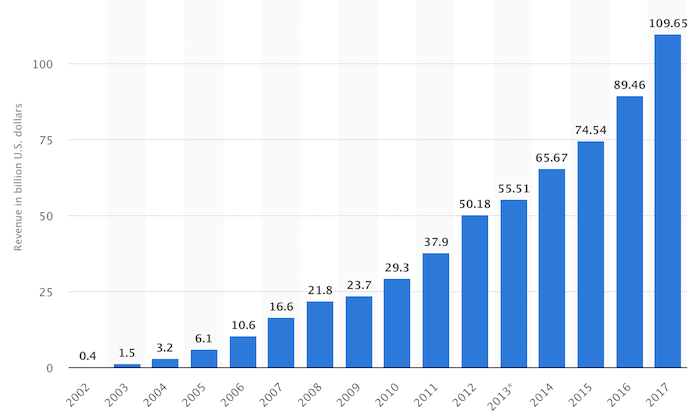 This is Google's revenue starting from 2002 going all the way up to 2017. You can see that it has only increased over time, not even a single down year for them.
Now Google's revenue is not the only proof that digital marketing is seeing more money, but it's a major one.
Well, let us have a look at Facebook too.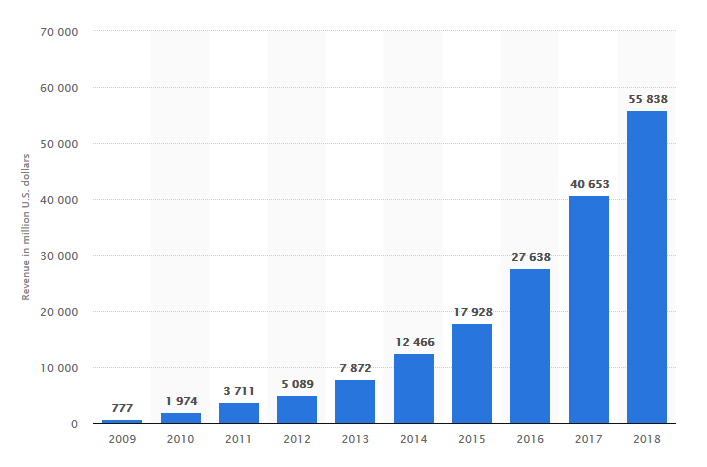 As you can see it has only increased as well, significantly.
While Facebook and Google stand in the center of digital marketing, such increasing revenue of theirs is the proof that significant more amount of money is being thrown at digital marketing every year.
This much money was bound to change the way the digital marketing game is played over time.
On top of that, digital marketing is largely dependent on technological changes and inventions, which itself is a very dynamic aspect.
Introduction of techs like voice search is going to change drastically the way SEO is done.
Also, Google usually introduces around 12 updates a year to keep search results fresh and more effective.
Blogging is seeing it's bad time, and people are choosing video contents over text contents these days.
With so many changes in our lifestyle and preferences, digital marketing had to change itself to adapt.
Dig Deeper…
Okay, now we're getting more into it. What are the changes you think we can see this year?
Voice Search is Going To Take Over
Have you ever performed a voice search? Cause I did, and so are many other adults in the globe.
Wordstream says that 2 out of 5 adults have used voice search once every day.
To go a step further, 50% of all searches are going to be done by voice by 2020, the next year, according to comScore.
Not enough yet?
Well, what if I'm about to tell you that Gartner says – 30% of all searches are going to be done without a screen even?
They're done with smart speakers, like Google home, Alexa etc. Studies show that 39 million people already own a smart speaker in the US.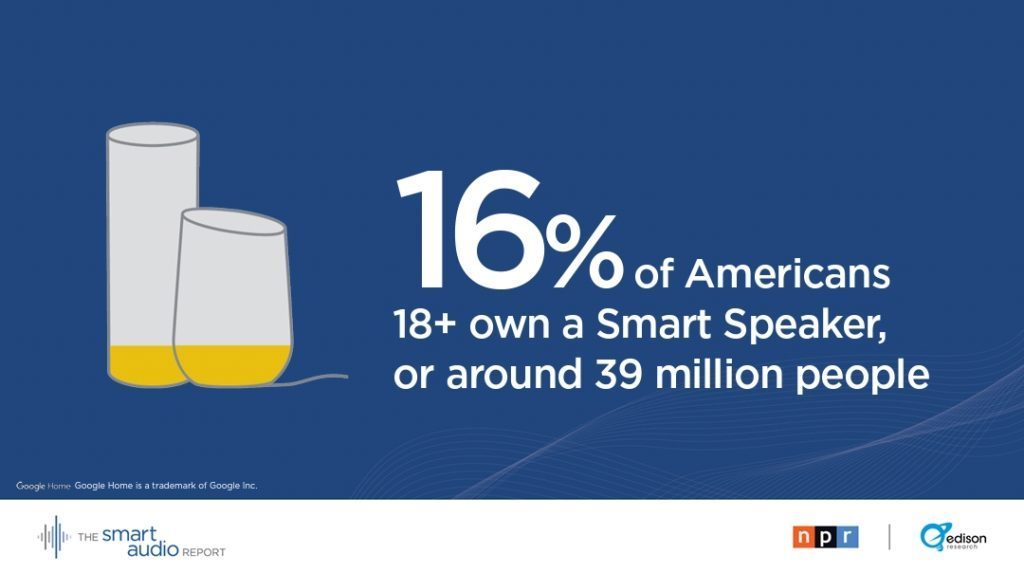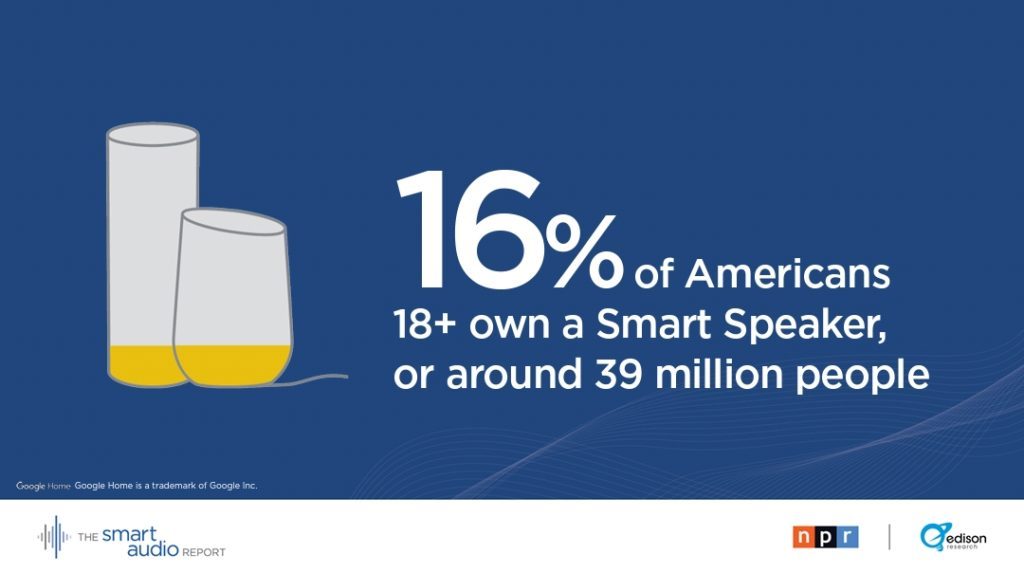 Image credit: Cardinal Marketing
Reason being, voice search is extremely effortless, easier, and faster than traditional search, so why not?
So get used to the fact that voice search is the next big thing in the world of SEO, and it might change the game itself.
Video Content is the Next Thing
We can all agree to the point that text-based content is saturated.
Video content is taking up that place, and will continue to do so.
We're getting lazier, and video contents complement that as it demands way lesser efforts to learn from videos than articles.
Things are easier to demonstrate there as well. And most importantly, they're fun and engaging, unlike a boring wall of texts. (hope not this one)
Video contents on the internet are also working as a replacement for traditional televisions. TV shows, movies you name it, you'll find everything online.
Thus online video contents are taking over in the aspect of learning, entertainment and every other one.
Cisco says, 82% of the internet traffic will be through video by 2021, a couple years from now.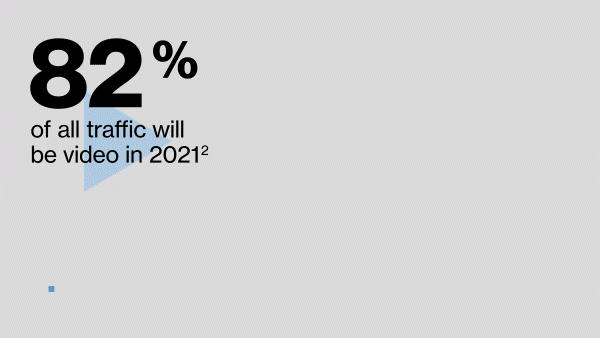 Image credit: Cardinal Marketing
As the result of consumers spending more time online watching videos than reading texts, advertisers are expected to spend $20 billion on mobile videos, up from $2 billion in 2015.
Artificial Intelligence is a Fact
Artificial Intelligence has already made a big change in the way brands interact with their customers and it'll continue to do so.
Chatbots have evolved quite a lot already. They can now handle tasks like basic customer inquiries to even driving sales.
Also, people are getting used to talking with chatbots and they're pretty comfortable with it.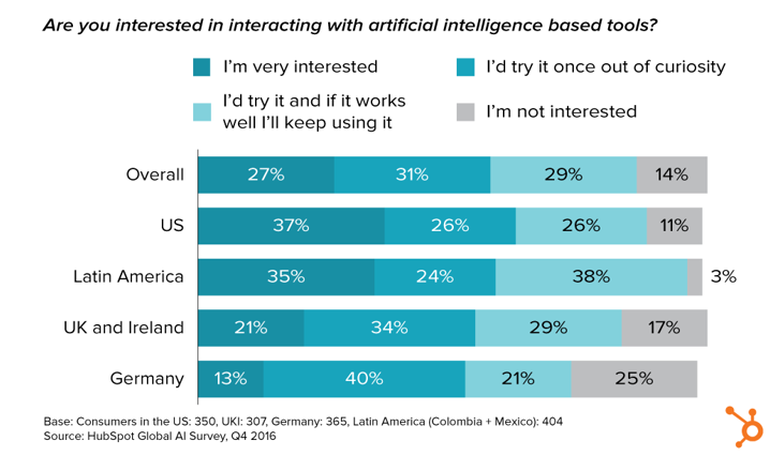 Image Credit: HubSpot
Chatbots are so sophisticated these days that they're hard to differentiate from human. And for fun fact, two of every three customers don't know that they're already interacting with AI tools.
Chatbots are going to be more sophisticated over time with advanced AI powering them.
Many companies are already investing in developing smart chatbots for them which they think could replace human employees to save them money.
Other applications of AI like augmented reality (helps seeing things how they'll look in real life), big data processing (helps personalization in marketing) are also going to change the way digital marketing is done.
See this application of augmented reality from IKEA, you'll understand.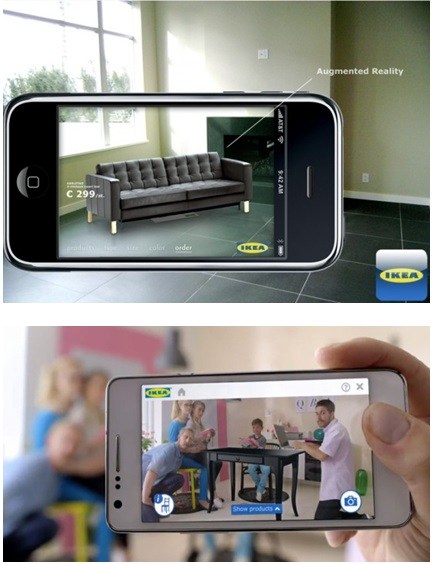 Discussion…
So what could we do to make ourselves future proof?
Make Changes to Adapt With Voice Search
If you think from the SEO perspective, voice search is not a good thing for you. Voice search is likely to give you a very minimal conversion as a website owner.
Also, being on any position of the first page of Google doesn't matter much then. Either Google pulls information from your website, or they don't (cause Google is going to pull from one website only).
There's no scope for the user to choose which website to enter.
So now what?
As an SEO you want to make sure that out of all the websites on the first page, Google pulls information from your site.
To do so, you've got to input more and more long tail keywords in your contents, because when we search with voice, we usually say long phrases than writing, if you noticed.
Also, you want to make your content sound more conversational, which will help you in this regard as well.
Be In Front of The Camera
The world is willing to watch video contents coming in 2019, what can you do about it from the marketing perspective?
Make more videos, simple!
Say the same thing, through videos, instead of text.
Previously you used to write a description for products, now make videos to show it. Previously you used to write knowledgeable articles on your blog, now make videos to explain it even better.
You may even upload them on your business's YouTube channel so they can get you some exposure there as well.
But most importantly, take video SEO or YouTube SEO as seriously (if not more) as organic SEO.
You know, YouTube is the second biggest search engine after Google, and fortunately, it's still not as saturated or competitive yet.
A little effort in YouTube SEO could help you appear not only in front of the massive YouTube traffic, but also in Google's organic search traffic as well, as you probably have noticed that there's YouTube video that appears above the fold for most Google searches.
Also, Facebook lives have become more popular than ever, as CISCO shows.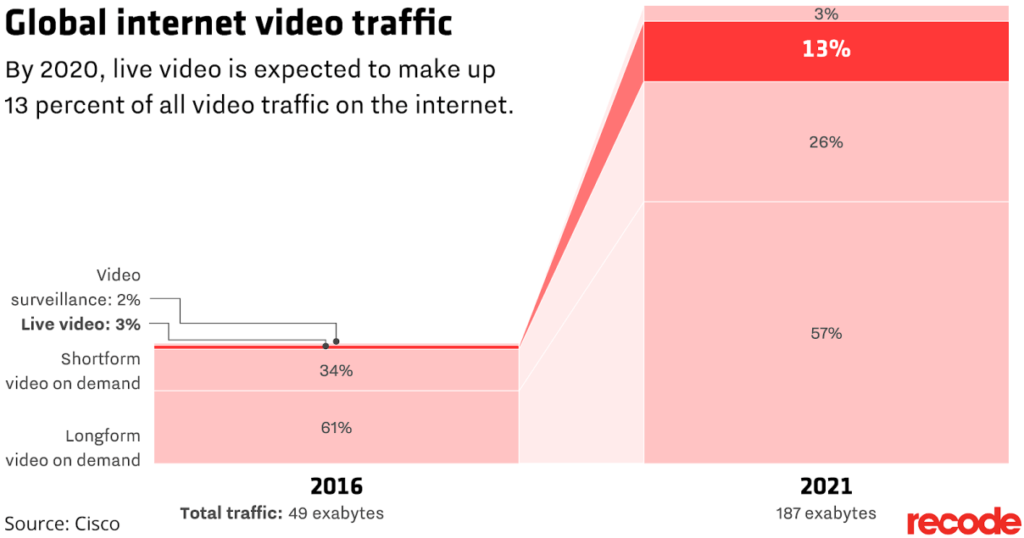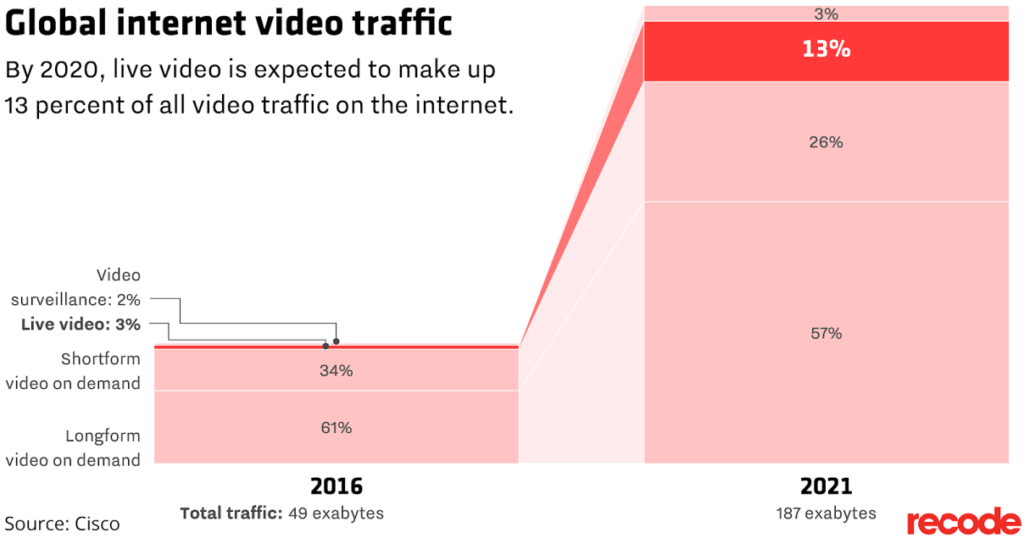 They say that live video is about to drive 13% of all video traffic by 2021.
Live videos are great – they're authentic, people are excited to see them, they're cheaper to produce as no editing cost is included.
So why not consider doing Facebook lives on your next product's launch, instead of doing press releases? Or going live on your next industry event host? Or receiving an award for your business live?
This could greatly help to build your reputation and authority, instead of articles on these topics.
Finally, if you're spending money on advertising, consider advertising on YouTube and Facebook videos, instead of only Google Adsense's text or banner based ads.
Be As Smart as AI
If you want to keep up with AI, you gotta be as smart as it.
Invest in building smart chatbots for you that can handle basic customer service and basic selling for you 24 hours, 7 days, 52 weeks, for free. It can be one of your actual "digital" marketers.
Consider building an Augmented reality app like IKEA and many other businesses did. This investment can increase your conversion in a huge, huge deal. You know, it always works better when you show them rather than telling.
Isn't it great when customers can see by themselves that how your product will actually look in their space, before buying it? This can help a great deal in convincing.
Also, put your money in big data processing to make your outreaches more personalized.
As Neil Flinchbaugh from NWF Digital Copywriting says, In 2019, Marketing Messages is all about making more Personalized.
To Summarize…
Digital marketing is such a dynamic aspect which changes in a great deal every time the globe completes a round across the sun.
2019 is no different, which probably will see the most radical changes in the era of digital marketing – like the evergreen organic SEO facing threat, blogging and text-based content devalued, Videos about to take the massive share of total internet traffic, AI taking over and so on.
To sustain in such a changing environment, businesses and other entities gotta adopt real quick by making complementary changes in the way they do digital marketing.
Now you tell me, what do you think is another radical change digital marketing is about to see in 2019?